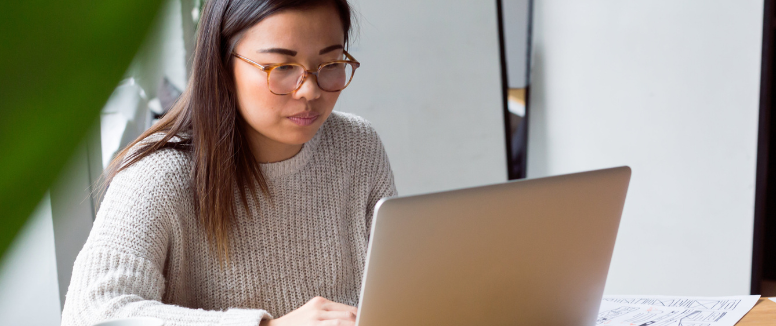 5 Essential Elements of Online Learning 
With online learning, there is no "in-person" training factor involved. This is why determining how to curate and create online learning experiences that will grab your learners attention span and keep them engaged throughout the course is critical. An online course that incorporates interactivity is one of the best solutions to guarantee an effective learning program. Learning with courses online that are interactive, allow learners to problem-solve, develop critical thinking skills, and will help in the long run with knowledge retention. The following are the most essential elements to include in your online learning modules, to ensure an interactive and engaging learning experience for your remote learners:
1. Assessments and Knowledge Checks
It is more traditional for quizzes and assessments to be delivered at the end of a course, but we would recommend rather including them as recurrent checkpoints. For example, you can ask your online learners to complete a short quiz or answer true or false questions from time to time to help keep them sharp and engaged in the content.
2. Digital Storytelling
Digital storytelling is a learning approach that is very creative and attention grabbing. The first thing you need to do is outline your story. When outlining your story, you need to determine if this will cater to your entire audience or just a particular group. You then need to know your objective. Think about what you would like your learners to take away from this interactive learning experience. An example of this in an online training program for employees would be documenting an employee's day at work and using that information to create content for an onboarding course. So now, when you are onboarding your new hires, you will be able to set the correct expectations for the different roles in your company. Digital storytelling is a great and effective eLearning method as it helps evoke emotion within the employees.
3. Images and Videos
Interactive images and videos will help take your online learning path up a notch. Images can be personalized with informative overlays, while videos hold the power of transforming passive, boring content- into an engaging eLearning experience for learners.
4. Interactive Powerpoint Slides
If you are using Powerpoint slides, including interactive elements on your slides will help boost learner engagement and retention. It can be as simple as clicking on a link to listen to an informative podcast on the topic at hand, or a link to a YouTube video that will help further your learners' understanding and cement the learning content in your presentation.
5. An LMS Where Learners Can Access Information 24/7
Deploying your learning content from an environment where learners can access resources at any time and practice freely is very important. Your learners should be able to visit their online learning platform as many times as they desire until they have mastered their newly acquired knowledge, and feel confident putting their new skills into action. Learning online and making mistakes in a virtual classroom is a great way to encourage exploration while teaching learners how these decisions could play out in a real-life situation.
Have you incorporated some of these interactive elements into your eLearning courses? To discover how you can work these elements into your new or existing online courses, request a demo to try it out!
---