SkyPrep Security and Compliance Features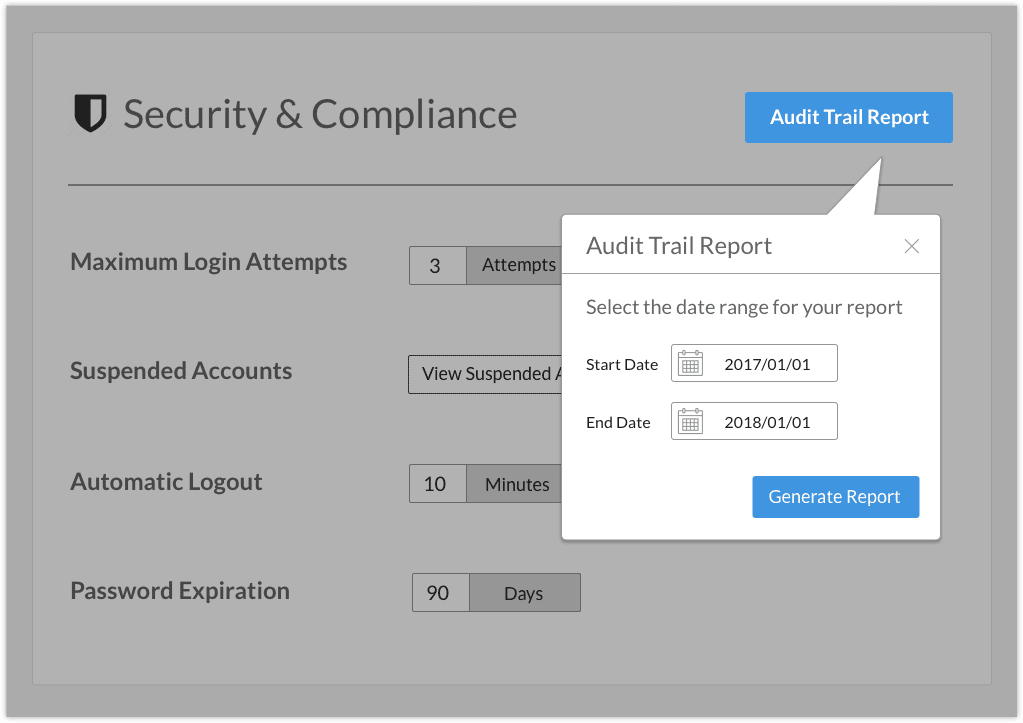 FDA 21 CFR Part 11 focuses on the security and confidentiality of customer information, administration of e-documents, and the approval requirements for e-documents and signatures.
SkyPrep always keeps your training records
up-to-date and inspection-ready.

Audit Trail Reports
Audit trail reports provide a read-only record of any updates pertaining to system-critical objects. Every audit trail report specifies the event, date/time, affected data object, operator identification, type of change, and comments.

Versioning
For audit trail documentation, course versioning is a necessity. Any changes made in SkyPrep are stored without altering the previously stored records, making it possible to see previously recorded information.

Electronic Signatures
SkyPrep offers configurable electronic signature options that enable adding a full user name, unique ID, date, time as well as meaning of the signature when it's captured.

Login Controls
Admins are instantly notified with inactivity lockout and restricted login attempt features. Access rights to different utilities are achieved by configuring different permissions and roles.

User Authentication
Authentication in the SkyPrep LMS require a user ID and password. All users are assigned unique user IDs that make it possible to track the actions of every user.

Data Security
SkyPrep uses an ISO27001 compliant Amazon AWS hosting service and provides consistent backups of customer information. The user data is protected by SSL.
SkyPrep Inc. provides integrated corporate e-learning solutions to help top companies facilitate online training and knowledge sharing in their organizations.
hello@skyprep.com
1-855-SKY-PREP
1-855-759-7737
550 Queen Street East, Suite 335
Toronto, Ontario
M5A 1V2
Products
Resources
Solutions
About SkyPrep
Support