What is a Learning Management System?
A Learning Management System (LMS) is software that assists companies with managing, delivering, and evaluating their corporate e-Learning program.
Just as HRIS software facilitates handling human resources and accounting software assists with handling financials, an LMS lets you design, develop, and provide e-Learning courses to your workforce.
An LMS is the next big thing when it comes to online learning. Here are a few statistics to illustrate this:
The majority of LMS users use cloud-based systems, coming in at 87%.
Customers primarily choose LMS software based on functionality (53%), price (32%), support (5%), corporate status (3%), and software reputation (3%).
The LMS market is expected to gd-flex flex-wrap from $5.22 billion to $15.72 billion by 2021.
By 2020, nearly 25% of students will be online-only.
Around 30% of LMS purchasers are large companies that particularly benefit from giving their workers an easily available, standardized learning environment.
Who Uses an LMS?
Anyone engaged in e-Learning practices is already using an LMS. Here's a list of just some types of LMS users:
Companies of all sizes, from small, family-owned business to large, global corporate entities.
Organizations, whether the UN or your local NGOs and non-profit institutes.
Conventional learning institutes (including schools, academies, seminaries).
Virtual and e-Learning based learning associations (for instance, online institutes such as Khan Academy and Lynda.com).
Basically, LMS platforms are used all around the world, across many diverse industries for a wide range of corporate learning applications.
Almost 42% of Fortune 500 businesses now use some kind of learning technology to train workers during official learning hours. Hence, LMS adoption all over the world is expected to keep on intensifying for the several years to come.
LMS users can be further separated into two distinct categories, Learners and Administrators:
Learners

Learners are the end-users. These are the users for whom the training content is designed. They are the recipients of the training and access the LMS to view learning material and participate in the course work and assessments, all while tracking their own progress along the way.

Administrators
Administrators are in charge for the management of the LMS, which includes multiple tasks ranging from course creation, to learner assignment, to monitoring learner progress.
What is an LMS Used For?
An LMS can be implemented for all types of learning activities. It is an instrumental corporate tool that has been successfully incorporated by nearly all organizations, regardless of their size and budget.
Here are some examples of the most common uses of an LMS:
Corporate Training
An LMS is basically used to consolidate, organize, and evaluate corporate training programs. A high tech LMS can support a range of in-house and peripheral business applications such as:
Employee, customer and partner training.
Training new workers or refining skills of the current staff as it is a perpetually ongoing process.
Reducing expenditures and eradicating corporate disturbances related to old-fashioned learning methods and allowing your employees to access the course content at any time and at their own convenience.
Acquiring better insight on their workers' progress with built-in tracking and reporting features.
Training consumers so that they can easily use their newly purchased products.
Reducing customer attrition by making training always accessible, delivering more value to consumers.
Improve partnership programs by training partners and networks (such as resellers) so that ensuring that everyone is on the same page and clear about corporate goals.
Educational Training
An LMS can be an effective platform for instructional offerings.
Whether it's an academic institute offering online classes, a college enhancing its class-based courses through e-Learning, a company instructing its customers, or a government organization trying to educate the public, an LMS is the future of learning.
Deliver incredible learning experiences today.
Get Started
Key Features of an LMS
Not every LMS has the features needed by companies to deliver the effective training that many businesses are lacking today.
To ensure that you are headed in the right direction, search for a platform with responsive design for mobile applications that also includes these six indispensable features:
Course and Content Management

The primary purpose of an LMS is to effectively create and manage e-Learning courses and learning material. Therefore, choose an LMS that allows administrators to effortlessly construct and manage courses and content.

User Management

An LMS should facilitate effective user management, including the automation of periodic and tiresome tasks, such as forming groups of learners, managing group registration, deactivation of learner accounts, and accommodation of new users.

Reporting and Analytics

An LMS should also possess the ability to track and assess the impact that the training sessions have on the learners. It should allow businesses to develop actionable insight into their training through customizable reports and control panels that present user progress via different metrics.

White labeling

White labelling is an important feature that allows users to customize an LMS to reflect the look of a particular brand or company. By using a fully white-labelled LMS on a company domain, users will think they are using an internal tool.

Integration

According to a Brandon Hall Group study, around three-quarters of businesses consider integration capabilities absolutely essential. With this in mind, an LMS should be able to integrate with the other systems being used, allowing you to easily synchronize data and information.

Security

It is also important to choose a secure LMS. Depending on your way that the LMS will be used, things such as private user information, proprietary company information, and trade secrets may be saved in the LMS. If you are unable to get specifics about the security practices of an LMS provider, skip it.
Key Benefits of an LMS
Whether you own a business or are at the receiving end of an LMS, here are a few advantages of employing an LMS:
Benefits for Businesses
An LMS can improve businesses by:
Reducing corporate learning and development expenditures
Reducing training time and improving performance of workers, consumers, and partners
Targeting diverse learning audiences
Consolidating training resources in one location
Assessing learner progress and the impact of training on corporate performance
Benefits for Learners
An LMS can benefit learners by:
Ensuring they are up-to-date with required trainings
Making both formal and informal learning methods easily accessible
Helping them attain expertise and knowledge required for professional development
Boosting workplace productivity through improved performance
SkyPrep Learning Management System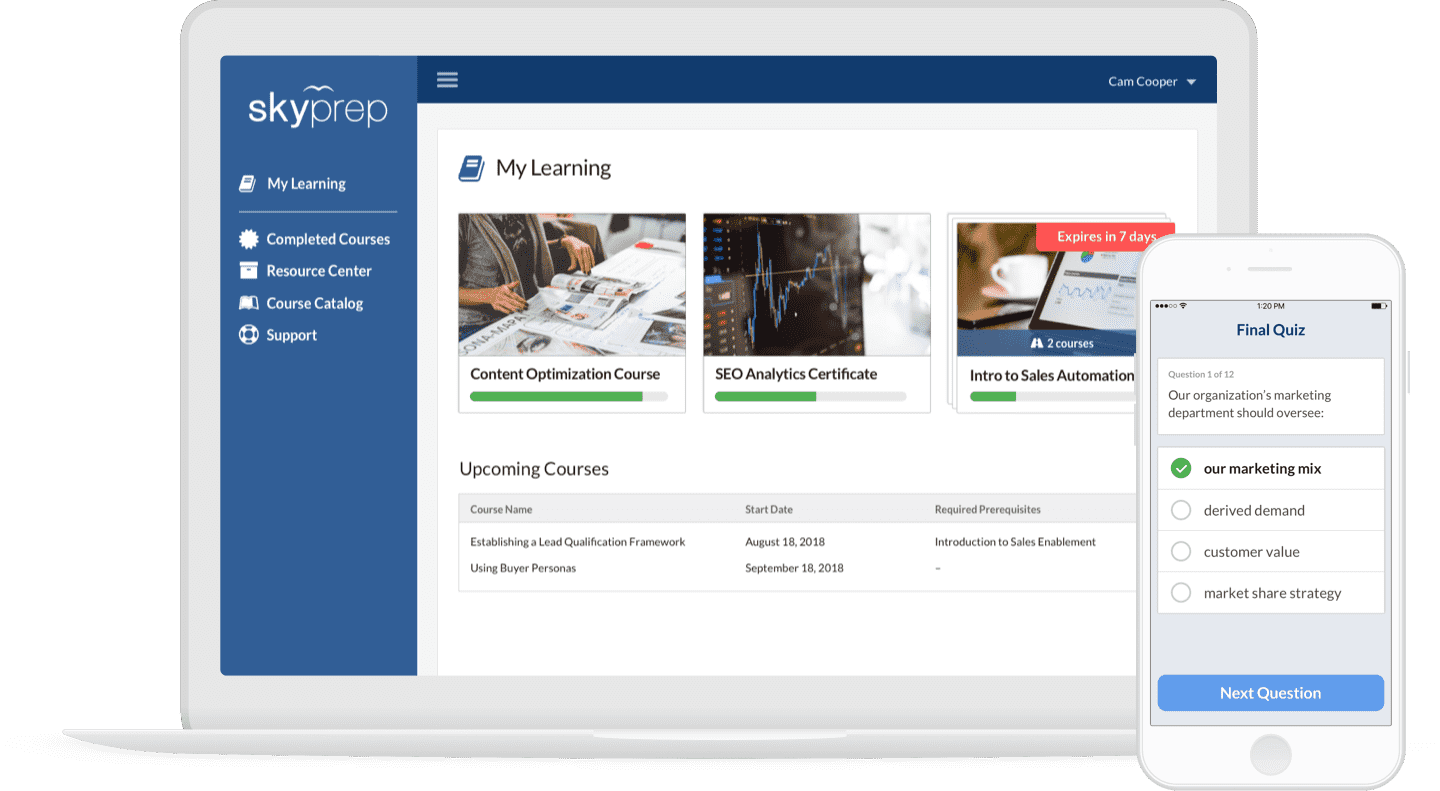 At SkyPrep, LMS means Learning Made Simple! Rated as the number one choice in Capterra's Top 20 Most User-Friendly LMS Software Report (2016), SkyPrep is the number one LMS "as measured by a combination of their usability, customer services offered, and customer reviews."
Our LMS is an award-winning online training platform used for employee and consumer training. The powerful features and intuitiveness make it a top choice for users who repeatedly voted us the most intelligible LMS on the market.
At SkyPrep, you're not our customer—you're our partner. We always keep our customers first, whether it is through complimentary product onboarding, industry-leading ongoing support, or something else!
Here are just some of the features we offer:
A user-friendly interface with a short learning time so that you can spend more time on other corporate matters
Easily upload and import employee data into the LMS
Integrate with OpenSesame where you can find and purchase courses, many at no or low cost
Sell courses using PayPal or Stripe. You can even use your Shopify storefront with SkyPrep!
Share unlimited customizable learning content, track learner progress, and enjoy real-time reporting with complete security
Try SkyPrep for no cost with our free trial option
Easily identify quick learners and spot individuals who need more training programs through exercises and evaluation
Multi-Language Support
SkyPrep also supports multiple languages, including English, Spanish, Portuguese, German, French and Russian.
SkyPrep Awards 2021, 2022, and 2023
The following are awards SkyPrep recieved in 2021, 2022 and 2023:
Software Advice Front Runner
GetApp Category Leader
G2 Easiest to Use
Capterra Best Ease of Use
Brandon Hall Group Excellence in Technology Awards Bronze
SOC II Compliance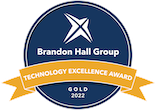 Get started with the easiest LMS on the market.
Our team of training experts can help you setup your LMS from start to finish.