Achieve Training Success
From course creation to measuring performance, SkyPrep provides you with all the tools
to ensure your training makes a positive impact for your workforce and business.
Choose SkyPrep
Our award-winning platform is designed for you to
get the most out of your training and development.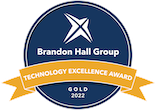 Daniel H.
Guest Experience Coordinator @ Miami Dolphins
It is a very user friendly software both on the admin and learner side. After a quick training, we were comfortable setting our platform and releasing courses to our staff.

Jennifer A.
Director of Learning @ Goodwill Industries of the Valleys
SkyPrep meets all our needs...and goes BEYOND! The software is quite easy to learn/use and helps our team work more efficiently in delivering, tracking, and reporting on trainings.

Aubrey A.
Project Manager @ Joint Commission International
Very simple to use from both an administrative and end user perspective. If we did not have SkyPrep we would not have been able to turn those events around as quickly and successfully as we were able to.