5 Essential LMS Reports for a Successful Training Program
Making your online training program a success can be quite the challenge. However, if you are able to dig deeper into your training program's performance data, you will have the information you need to make it a success. Being able to see how your learners and training programs are performing will enable you to see what's working well and what areas need to be improved on. That's why reporting is a significant feature that should be considered when selecting an online training software.
A good Learning Management System (LMS) will enable you to pull the data you need, when you need it. You will have better visibility into your training program's performance and get actionable insights to improve it.
There are many types of reporting you can use but here are five reports you can start off with to make it simpler for you.
Here are five key LMS reports that will help you make your online training program a success!
Time Spent on Each Course
The amount of time learners spend on a course is a good indicator of how well they are performing. This can be tricky to measure correctly but a good LMS will provide reporting to show this information. You will be able to see if learners are making good or poor progress, what's resonating with your audience, or what troubled areas you need to improve on.
You will have a better understanding of how your learners are responding to your course content and if you need to make any adjustments to alleviate any issues your learners are experiencing.
Compliance Tracking
In many organizations and industries, there are important policies and procedures the workforce must adhere to. It is beneficial for organizations to have clear visibility into who is compliant to these standards and who is not in order to maintain compliance and reduce risks and liabilities. A good LMS reporting feature will alert users who need to do training over again or if their training or certification is about to expire. It will also automatically re-enroll any members who have certificates that are expired. This will help ensure your workforce is fully trained and compliant in an easier manner with less headaches!
Completion Rates
It is normal that some learners do not fully complete a training course, but if you have a large number of learners who did not complete a course, then you may have a problem on your hands. There may be issues with your training program such as the content not resonating with your audience or it being overly complicated, or the type of training may not be enjoyable.

Completion rate reports will allow you to easily and quickly see if there are courses that have a higher than average non-completion rate so you can spot any issues with your courses and take action to refine them. With these reports, you are also able to get in touch with employees who did not complete courses to dig deeper into the factors hindering your completion rates as well as encourage them to complete the course once the problem has been solved.
Assessment Results
Seeing which members have passed or failed your quizzes or assessments can provide a strong indicator of the course's effectiveness and how well your learners are understanding the content. If many members are failing mid or final assessments, this could highlight problems with your content such as it being too complex and not very clear. Being able to look into assessment results will give you more insight into the causes and if you need to address the issues before they turn into bigger problems.
User Feedback

Relying on data from the above reports will provide you with the right information to make your training program a success but if pair that up with feedback from your users, you will be better equipped to provide the best experience for your workforce.
By listening to their voice, you gain a better understanding into what they are enjoying, how useful the information is for them, and what areas are they struggling in.
Final Thoughts
LMS reporting will provide you with the insights and data you need to enhance your online training program and provide the best knowledge for your workforce. There are many report types you can use to help you with this but we have outlined the top five LMS reports to make it easier and more manageable for you. You will have all the information you need to support your team and accelerate their success.
SkyPrep offers these five LMS report types and more. If you're interested in learning more about SkyPrep's reporting capabilities, you can download our Reporting Brochure. 
[hubspot portal="1625429″ id="3d1f9da0-83e9-45a7-a968-4c375582f70c" type="form"]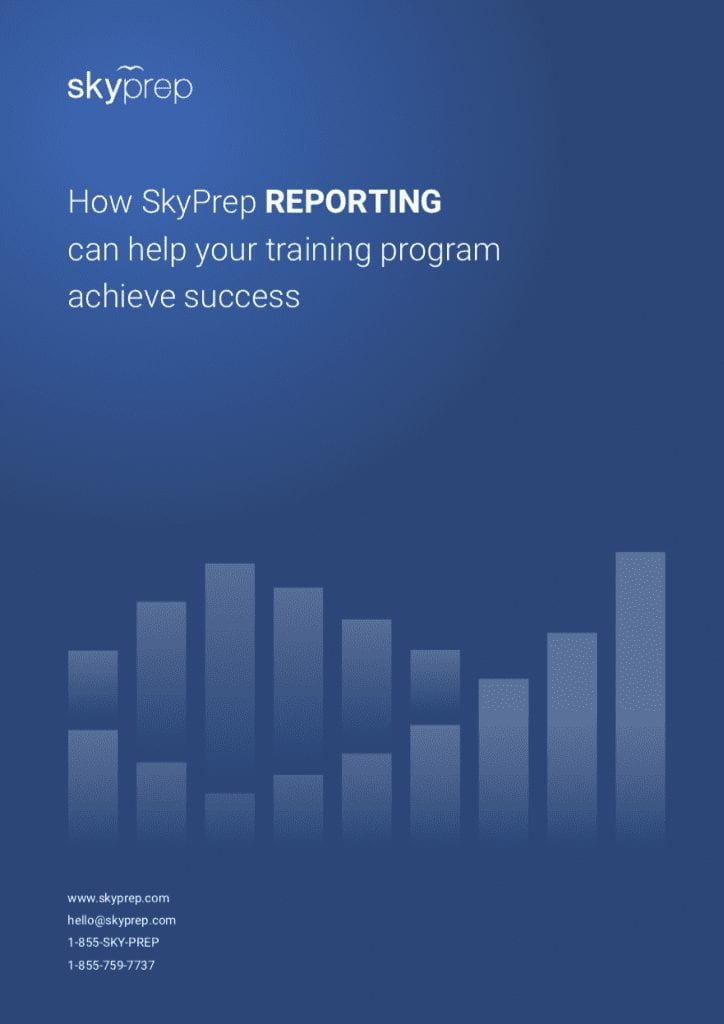 ---