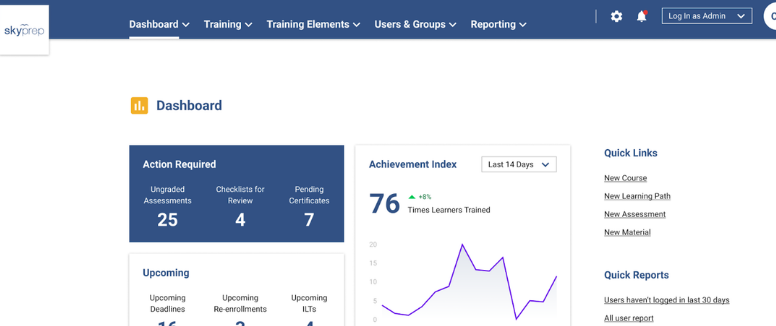 Discover SkyPrep's All-New Admin Interface
Our team at SkyPrep has been extremely busy the past year in creating an even more powerful and intuitive training solution to conquer modern business challenges and address the growing need for online learning.
That's why we are very excited to announce our new reimagined and redesigned admin interface. With its new modern design, greater customizability, and innovative features, administrators will be able to raise the learning experience to a whole new level.
At SkyPrep, we've always been dedicated to producing a platform that is robust yet intuitive and our new release follows that same philosophy. Our platform doesn't just look stunning, it's even more powerful than before while still keeping simplicity in its design.
Continue reading to learn more about our new interface and see how it can transform the way you manage and deliver your corporate training.
Modern and Intuitive
Administrators play a key role in developing and delivering training programs for their team. To support admins and make their lives easier, we underwent extensive usability testing to give them a platform with better user flows and simplified navigation, all bundled in a brand new and modern interface.
The clean design and better organized layouts makes the interface even more intuitive and easier to access different parts of the platform, improving administrative efficiency. Whether you are creating courses, managing users, or digging into your data to see what's going on, SkyPrep's new and improved UI makes it effortless.
More Powerful
Along with the great new look and feel of our newest platform, we made our training solution even more powerful with brand new innovative features, and added functionality and enhancements to existing features. Our new in-app bulk actions feature (Coming summer 2021) lets you complete mass actions directly in the training platform such as updating course status, enrolling users into courses, and more, without having to manually change it for each learner or uploading CSV files.
We have also developed new internal automations to let your LMS do the work for you. It consists of an action being automatically completed when a specific event occurs such as sending email reminders for upcoming ILTs and course deadlines that are approaching. Overall, our new supercharged platform was developed to help admins do more with less effort.
Fuel Learning Impact
To help our customers make an even greater impact with their training, we have developed new features to test the knowledge of your learners during a course and help them retain crucial knowledge more effectively.
Knowledge Booster (Coming Q4 2021)
An exciting new feature that many LMSs don't have is the Knowledge Booster feature, which was designed to make the most impactful training possible. The reality is, most learners forget what was taught to them shortly after it was presented to them. Your training efforts are being wasted if your team cannot properly digest and retain the training information. SkyPrep's Knowledge Booster was developed to minimize the knowledge that is lost after learning it. Once a course has been completed, you can drip key content and materials automatically back to the learner at specified intervals and leverage mini quizzes to test them. This will help to reinforce crucial knowledge and ensure they are properly retaining this information.
Another effective feature we have come up with are Knowledge Checks, which are an informal type of assessment that appears during a course, containing questions about the specific topic. It makes training more interactive, provides immediate feedback on the content that was shared and helps learners focus on the vital content being presented to them. You can create multiple types of questions, easily add them to courses and set when and where they appear. Then report on your team's progress to see how well they are digesting the content they had just learned and catch sight of any potential issues your learners may be experiencing.
Personalized Learning
Learning can be tedious and boring but it shouldn't have to be that way. We have introduced new features to make the learning experience more personalized for your learners, enabling training to be more engaging and resonate better with them.
Our new AI Chat Bot acts as a personal virtual coach for your learners to help put them on the right track for success. It engages with your team by:
Notifying of upcoming deadlines and live sessions
Suggesting course and learning path recommendations
Tracking their course and skill progress
Searching the entire platform and displaying courses, modules, learning paths, or resources based on search query
Learners will be able to quickly and easily get the training information they need instead of constantly contacting admins for help or spending time searching for it on the platform.
The new Skills Tracking feature makes it easy for admins to keep track of learners' skills and see the areas they are proficient in. You can create the skills that are important for the success of your business then assign skill points for completing training activities. Easy-to-read reports allow you to see which users have what skills and competencies, helping to show the strengths of your team and close the skills gap if there are any.
Endless Layout Possibilities
The SkyPrep platform offers even more flexibility in how you can customize your platform. The widgets in the admin dashboard include powerful new modular functionality, allowing you to add, remove, and move widgets for endless layout possibilities. By customizing your dashboard, this allows you to choose what information to show and where, so you are only displaying key information based on the admin's needs.
​​
Request a Demo to Learn More About Our New Interface
---