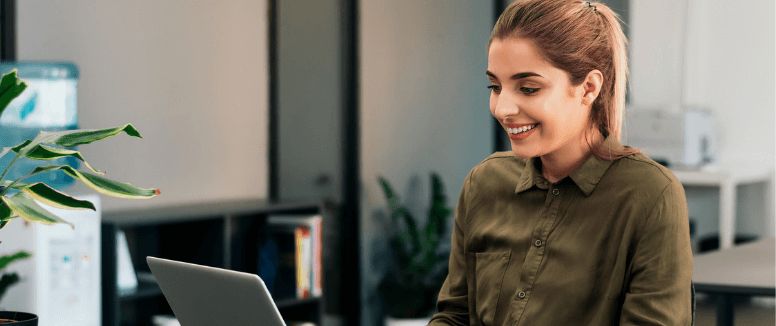 5 Online Training Methods You Can Utilize to Engage Modern Learners
The online learning landscape has experienced many changes over the last year. These changes have caused businesses to wonder what particular online training delivery methods can help keep today's modern learner engaged. Most organizations are slowly adopting a remote and hybrid workplace model for their teams. This has caused eLearning solutions to grow even more in popularity.
To help you filter through the many options and better navigate the Learning and Development landscape in 2021, we will guide you through the top 5 online training delivery methods you can utilize to guarantee the modern learner stays engaged.
1) Mobile-Ready Learning
If you are on the hunt for an online training method that is equally engaging as it is effective, consider mobile learning.
Mobile learning has grown in popularity over the last several years. A mobile-ready course is one that is accessible and user-friendly for learners across all devices. Many industry leaders have implemented this learning method to keep their growing global workforces engaged.
Mobile learning is an effective delivery method that will help businesses conquer common learning and development challenges. For example, the average workplace has recently been altered, with more employees working from home than ever before.
Many organizations are also considering adopting a hybrid workplace model which will allow their employees to alternate working from home and in the office throughout the workweek. Designing and delivering an online training course that is mobile-ready will help your business provide your employees with quality learning experiences, no matter their location.
By allowing this increased access, your employees will feel empowered to learn and access training material whenever it fits their schedules best.
2) Virtual Instructor Led Classrooms
Organizations are looking for online training methods that are effective alternatives for in-person instructor-led training but will still encompass the idea of social learning. In this case, virtual instructor-led classrooms can be highly effective.
A virtual instructor-led classroom is just as it sounds when an instructor provides employee training within a virtual environment. It is an instructional design method that is highly engaging as it provides learners with a social experience where they can engage with other learners through virtual projects, activities and discussions.
This way your learners can still reap the benefits of in-person type training, without risking face-to-face interactions and still maintaining any social distancing orders that may be in place. Virtual Instructor Led Classrooms are also a very cost-effective solution for businesses as it eliminates many other costs that would usually be associated with in-person training.
3) Scenario Based Learning
Scenario-based learning is another great training method that can assist in boosting learner engagement. It is also a type of training that is done in an online learning environment.
Typically, online learning modules are created with an underlying story line and the idea is to have employees interact with this content by applying their knowledge and feedback to the simulated scenario.
This "virtual role-playing" is highly engaging due to its interactive nature and will help employees deeper understand the context pertaining to the training topic.
Scenario-based learning also provides employees with a safe and risk-free environment where they can practice new skills. It will help strengthen their confidence before they actually have to apply it on the job.
4) Personalized Learning Journeys
Today's modern learners have varying needs. It is very common for employees to have different skill sets, experiences and learning preferences. Developing a learning program that covers all the bases of your material, whilst keeping engagement levels high is challenging.
Determining employees unique learning styles and developing personalized learning experiences will address this challenge. Personalized learning paths will keep your learners engaged by providing only the most relevant content to them based on their experiences and needs.
5) Microlearning
Breaking down online training content into small bite-sized segments is a highly effective and engaging strategy. When your training material is structured in a microlearning format it will help you design a training course employees can work into their daily schedules. It also gives them the advantage to have it completed faster.
Microlearning can also be utilized as a learning resource by allowing employees access to material when they need it. It is also particularly advantageous for businesses whose training material needs to be regularly updated.
For instance, in the last year organizations have spent a considerable amount of time and money updating their health and safety compliance training. In unprecedented times, a microlearning format can help your business create and update your training content in an easy and time efficient manner.
Businesses and employees needs have significantly changed over the past year. With many employees working from home, upskilling and reskilling are high in demand. SkyPrep can help you utilize the right online training methods to engage the modern workforce.
To learn more, request a call and a specialist will be with you shortly.
---