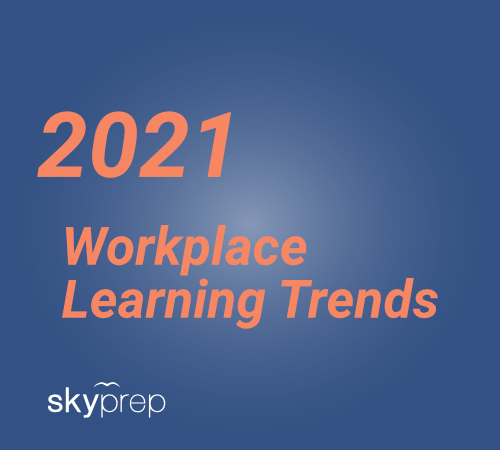 Workplace Learning Trends Your L&D Department Should Bring In 2021
This year has marked a massive evolution in workplace learning. The COVID-19 pandemic has forced organizations all around the globe, across almost every industry to utilize remote training initiatives in order to keep their team engaged, while considering their safety and well-being.
Learning & Development departments have played a major role in managing the challenges of remote environments, providing convenient outlets to support and empower learners such as using flexible employee training software.
With the future remaining uncertain, it's no surprise that Learning and Development (L&D) managers are constantly seeking ways to improve and sustain their online learning efforts for the longer term.
We've identified some significant trends within the eLearning industry that can help empower you to properly utilize and leverage online remote learning to support your teams. Here are four of the latest trends that will help keep your online employee training moving in the right direction, to performance that is sustained and successful!
Trend 1: Investing in an eLearning Partner
A Learning Management System (LMS) is a great support solution for your organization's learning ecosystem. Finding a platform in eLearning with high-quality support is essential. The right vendor will also have industry knowledge with helping you assess and select the right tools suited for your needs. When your employee training software provider offers top notch support, your Learning and Development administrators can focus less on the maintenance of your LMS.
You are able to utilize your time and energy on supporting your employees and meeting professional development and business goals. Furthermore, partnering with a Learning Management software that can keep up with changing business needs and eLearning trends is invaluable to your training needs today, as well as in the future. Quality LMS support is key to maintaining an effective online training program. The success of any eLearning project relies heavily on the ability to receive timely support with useful answers, for any questions or concerns you may have.
Trend 2: Future-Proof, Scalable Remote Learning Initiatives
In the last year, remote work has increased exponentially for obvious reasons. This shift has been crucial in order to control and minimize the spread of COVID-19. With the future being uncertain, it raises the question of a need for ongoing or more permanent remote work initiatives within many industries.
Learning and Development (L&D) is an essential business function that you can maximize online. Remote learning is paramount to connect and support learners no matter the direction of your organization. Whether it be used as part of business contingency plans during unexpected challenges like the ones brought upon by COVID-19, or for onboarding and training sessions. eLearning is a valuable solution for any role, organization, department, for any company's size.
A Learning Management System (LMS), can be used by companies to help ease into transitional periods or unexpected interruptions in operations by offering important resources and training to keep teams connected, engaged, and productive. An LMS will not only deliver and track online employee learning, but will also allow you to communicate information regarding changes or new protocols to your teams. In addition, it will provide appropriate tools for your employees, in a single location.
Trend 3: Major Improvements to Online Learning
Amid the COVID-19 impact, the need for more fluidity and flexibility has increased within organizations. Now more than ever, there are more resources to support remote work and learning. Companies can now easily implement or improve existing eLearning material in order to meet the evolving needs of their managers and employees.
Now learning materials can be loaded in advance and learners can engage in individual or self-paced learning by logging in and completing work on their own schedule.The use of various content delivery methods, for example gamified learning will provide a more engaging, memorable experience, encourage information retention, boost learning success rates and improve business results.
Trend 4: A Connected Learning Ecosystem
For your eLearning landscape to be successful, your LMS needs to be a central hub for learning. Your Learning Management System should be the center of an interconnected ecosystem that offers flexible integration with additional tools and technologies you may want to incorporate for other types of learning.
With your LMS sitting at the center of your learning ecosystem and the facilitation of seamless integrations and tools, you will provide an effective learning experience for your employee training.
To learn more about SkyPrep workplace learning solutions contact us today and one of our specialists will be in touch shortly.
---