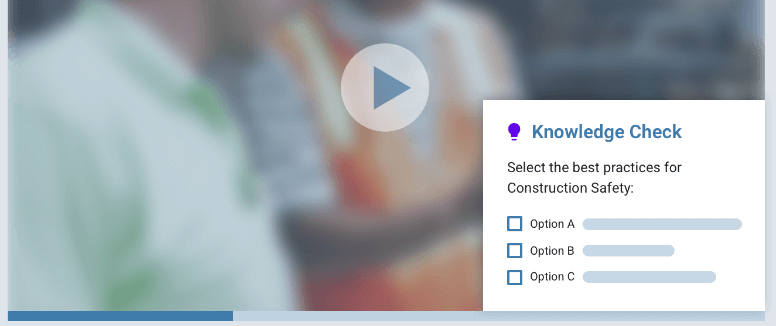 Bring the Best Out of Your Employees: Introducing Knowledge Checks for the SkyPrep LMS
Bring the best out of your employees by using SkyPrep's Knowledge Checks feature to deliver effective and high-impact training. Create and add questions to courses, set when and where they are to appear, and provide feedback to expand on the great content you just shared.
By using Knowledge Checks, your team will be able to better digest your training content, helping them to advance their skills and expertise.
Introducing SkyPrep's Knowledge Checks
Learning should be a captivating experience delivered in an engaging and effective manner. If it's not done so, this can lead to low engagement and create barriers to learning by making it difficult for learners to comprehend and retain training information. SkyPrep solves this with its Knowledge Check module to provide you with the tools to test your learners during a course. This ensures they properly absorb the information presented to them so they can successfully apply it to their roles.
Create Multiple Question Types
You can create the most effective questions for your team by choosing from a variety of question formats such as multiple-choice, true or false, and fill in the blank.
Easily Add Them to Courses and Set When and Where They Appear
Help your learners to better understand and retain your training content by creating and adding Knowledge Checks to your courses. You can set when they are to appear during a course by selecting the page number in a document or entering the time in a video. You can also choose to have it appear over the content or pop up in a corner without obstructing the content.
Provide Key Feedback on a Topic
Once a knowledge check has been completed, you can provide additional information to share more examples or expand on the content that was just discussed.
Track Learner Responses and Progress
Get insights into how well your team is applying their knowledge by using visual reports to track responses and results. Simple, easy-to-read charts break down how users are performing and help you make data-driven decisions to improve your training.
Why Check Out SkyPrep's Knowledge Checks?
With SkyPrep's Knowledge Checks, you unlock the power of real-time questions and supercharge your training. Bundled in a modern and intuitive interface, your team will be able to easily advance their professional skills in no time.
Improves Learning Retention by Effectively Reinforcing Topics
Using real-time questions during a course catches the learner's attention and ensures they focus on relevant training information. Testing their knowledge and getting them to apply what they have just learned will reduce knowledge gaps and help your employees become experts on the topic being covered.
Helps Improve Content Effectiveness
Visual reports help to show if your content is clear and understandable. You can spot issues and leverage real-time information about training content quality, so you are able to enhance it better to highlight what's important and refine your content.
Makes Your Training More Interactive
Having the same dull training can be tedious and counterproductive. By incorporating Knowledge Checks into your courses, you turn your current training into an engaging and interactive learning experience. They challenge your learners by getting them to think and use the information they learned to answer questions as they go through their courses.
No Third-Party Plugins or Integrations
Our Knowledge Checks module is entirely homegrown, allowing us to integrate it more easily than our competitors who typically use third-party plugins and integrations. This makes the learning experience more seamless and intuitive for both admins and learners.
To learn more about SkyPrep's Knowledge Checks and how you can boost learning retention, request a call and one of our product specialists will be in touch shortly.
---