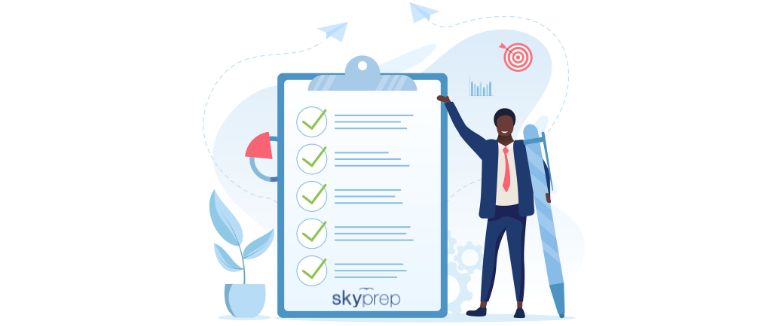 LMS Must-Haves: a 15-Point Checklist 
When selecting an LMS platform for your business, it is crucial to consider the features that are essential for your organization's specific needs. To help you make an informed decision, we have compiled a 15-point checklist of must-have features to look for in an LMS.
Ease of use – The LMS should be intuitive and user-friendly, ensuring that both administrators and learners can easily navigate and access the necessary features without any technical difficulties.
Easy course creation – The LMS should provide a straightforward process for online course building, such as creating and organizing courses, including features such as drag and drop content, customizable templates, and the ability to easily import and export course materials.
Virtual classroom – A virtual classroom feature allows for live online lectures, discussions, and interactive sessions, making it easier for learners to engage with instructors and fellow students, regardless of location.
Customization options – Customization options allow for branding and personalization of the LMS, ensuring that it aligns with the organization's visual identity and provides a cohesive learning experience.
Upload videos/PPT/PDF/SCORM – The ability to easily upload and integrate various file types, such as videos, presentations, documents, and SCORM, offers flexibility in course content creation and delivery.
White labeling – White labeling allows for the LMS to be fully branded with the organization's logo, colour scheme, and other visual elements, creating a cohesive and professional learning platform.
Multiple instructors – The LMS should support multiple instructors, allowing them to collaborate and contribute to course content creation and course management.
Mobile-Friendly – With the increasing use of mobile devices, a mobile-friendly LMS ensures that learners can access their courses and content on smartphones and tablets, providing flexibility and convenience in their learning experience.
Multiple languages – The LMS should support multiple languages, catering to a diverse learner base and enabling organizations to provide courses and content in different languages to reach a broader audience.
Quizzes – Quizzes are an essential feature of an LMS, allowing instructors to assess learners' understanding and knowledge retention. The LMS should support various question types, grading options, and feedback mechanisms for quizzes.
Surveys – Surveys allow instructors to gather feedback and insights from eLearners, helping to improve course content and delivery. The LMS should offer customizable survey options and analytics to analyze survey data.
Tracking & Reporting – The LMS should provide robust reporting capabilities, allowing administrators and instructors to track learners' progress, course completion rates, assessment scores, and other key metrics. Customizable LMS reports and analytics provide valuable insights for evaluating and optimizing learning outcomes.
Certificates – The LMS should support the generation and issuance of certificates upon course completion. Customizable certificate templates and automated certificate delivery help recognize learners' achievements and provide motivation for continued learning.
Gamification – Gamification is the integration of game-like elements and mechanics into the learning experience to enhance engagement and motivation. This can include features such as badges, points, leaderboards, and rewards, which incentivize learners to actively participate and progress through the courses.
Support Team – A strong support team is crucial for effective LMS implementation and ongoing maintenance. A dedicated support team should be available to address technical issues, provide training and guidance to administrators and instructors, and assist learners with any questions or difficulties they may encounter while using the LMS. Additionally, the support team should offer timely updates, troubleshooting, and continuous improvement suggestions to ensure a smooth learning experience for all users.
When choosing the right Learning Management System (LMS), it is important to consider the features that will best support your training goals. Keeping this checklist in mind will help you to identify the essential features you need, ensuring that your LMS is rich with functionality, rather than overloaded with unnecessary features. 
---