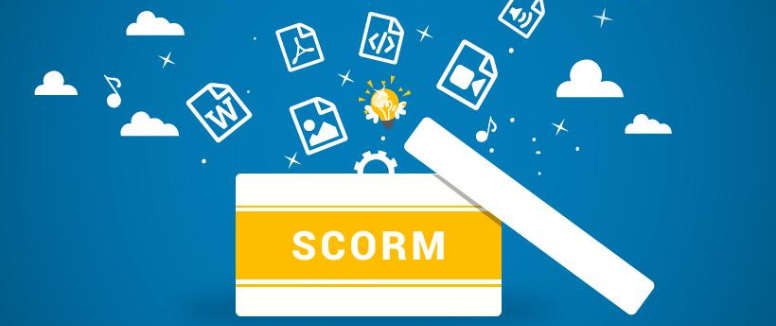 SCORM: What Is It?
SCORM (Sharable Content Object Reference Model), is a set of technical standards and protocols that allow different content and Learning Management Systems (LMSs) to interact with each other. It allows for the creation of learning materials that are compatible with both diverse platforms and diverse users. SCORM makes it easy for educators to create eLearning materials that can be shared seamlessly between different types of platforms. It supports different levels of interactivity, feedback and data collection that can be used to assess a learner's progress. SCORM standards ensure consistency in the way the content is delivered to different systems and different users, making it easier to repurpose, share, and update content. It also supports the integration of different types of multimedia objects and media formats to create a more immersive engaging eLearning experience.
SCORM 101: An Example and Analogy
An analogy and example of how SCORM (Sharable Content Object Reference Model) works is to think of it like a courier service. It standardizes the packaging and delivery of digital educational content, like letters and packages, so that it can be securely transported to the intended recipient. By using standard communication protocols, SCORM makes it so anyone can send these digital "packages" and they can be easily received and unpacked by the recipient, regardless of the technology they are using.
SCORM helps make sure that digital educational content is being sent in a compatible format, so that it will be recognized and used by all learning management systems. For instance, just like a national courier company will deliver packages from one side of the country to the other, SCORM makes sure content is properly packaged and transferred from one learning management system to another. Additionally, SCORM tracks the progress of users so that educational performance and results can be monitored and evaluated. Just like a courier can provide tracking numbers so you know when and where your package arrives, SCORM provides tracking information so administrators can understand how users are utilizing digital educational content.
5 Benefits of a SCORM Compliant LMS
1. Improved Compliance and Reporting
With SCORM compliant LMSs, organizations can effectively monitor learner progress and quickly access important reports and data. SCORM compliant systems provide visibility into user activity and performance, making it easy to spot problem areas, save and store data points, and track successes. In addition, leveraging SCORM standards gives course creators reassurance that any course content they create can be accurately and reliably delivered from any publishing platform. This makes accurate reporting and compliance a priority.
2. Smooth Content Delivery
SCORM compliant LMSs ensure that content that was originally built for one particular LMS can be easily switched or migrated to another LMS with little reworking involved. This makes it much easier and cost effective for companies who have multiple learning management systems to manage and want to ensure their content is accessible across different platforms. This not only saves time and resources, but it also allows for flexibility when it comes to how and where content is consumed. SCORM compliance also offers peace of mind that content can be easily modified to fit new standards as needed.
3. Optimized User Experience
A seamless, streamlined user experience is created with SCORM compliant LMSs, no matter which platform a learner is using. Learners are able to navigate courses with familiarity and ease, finding information with a sense of ownership and control. This more intuitive, organized layout is designed to encourage active learners who can take responsibility for their own learning paths. Online courses built on SCORM enable eLearners to navigate and interact with their online courses in their preferred way, increasing engagement and improving overall outcomes.
4. Cost-Saving
SCORM-type compliant learning management systems allow organizations to save on development, hosting, and maintenance costs by utilizing content and modules that have been developed for other platforms. By being able to switch or migrate content easily from one platform to another, organizations don't have to invest in costly development of content and can repurpose materials, which helps to reduce the overall costs for hosting and maintaining learning materials. In addition, organizations can save on the cost of proprietary hardware that would be needed to run the LMS program. This type of interoperability allows for utilizing existing hardware or licensing existing software, making the overall costs of using a SCORM compliant LMS much less expensive.
5. Interoperability
SCORM provides a standard that enables the interoperability of different platforms, allowing users to access and interact with courses and content from various sources. This means that learners can access content from various sources created in different formats, including AICC, HTML, and others, with ease and without any technical obstacles. The versatility of it allows the learners to continue their learning journey with ease and from the same platform rather than having to switch between various systems. Additionally, they can access course materials irrespective of the device they use. This saves users' time and improves their user experience.
SCORM is a valuable tool for both Learning Management Systems and the wider learning and development community. By enabling the seamless transfer of content across different platforms, it can help create an improved, more efficient, and more unified eLearning experience. With its emphasis on data-driven results, SCORM has been instrumental in improving the management and accuracy of eLearning material. We can therefore confidently say that SCORM and learning management systems are essential components of any successful eLearning strategy.
---