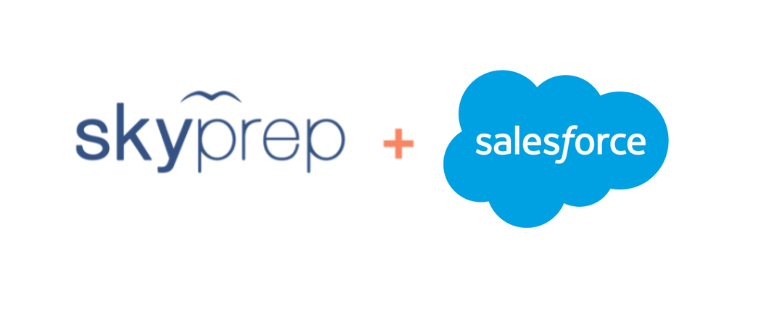 SkyPrep + Salesforce: Integrate Your CRM Seamlessly With Your LMS
We are pleased to announce the release of our SkyPrep and Salesforce integration. Our new integration allows you to integrate your SkyPrep eLearning platform with Salesforce. This means it will now be easier than ever to access your CRM right from your LMS! SkyPrep will easily pull information from Salesforce straight into the SkyPrep platform. This will save both time and effort as it will eliminate the need to have information stored on multiple platforms. When your CRM and LMS work in unison, you will be able to effortlessly manage and synchronize your users, accounts, sales, and courses. This new integration increases the value of your LMS investment as it will improve employee, customer, partner and sales performance.
Using the SkyPrep + Salesforce Integration Will Enable You To:
Create a centralized learning hub, making access to information and training easier
Make your organization's eLearning processes more efficient
Eliminate the tedious manual work and time that is spent importing and maintaining information, courses, catalogs etc in Salesforce
Deliver and assign personalized content to your customers and partners based on where they are in the sales funnel
Courses will be aligned and synchronized without ever having to leave your LMS
Eliminate the risks of errors that tend to occur with manual entry
Create custom reports and analytics dashboards to monitor and track performance outcomes
SkyPrep's integration with the world's #1 CRM (customer relationship management) software will give organizations a complete view of every destination your customers interact with your brand- while enabling your sales, marketing, commerce, service and IT teams to work together from anywhere in the world.
About SkyPrep:
SkyPrep LMS is an award-winning, intuitive industry leader. It enables you to deliver effective internal training, onboarding, compliance training, and more to your employees, partners, and customers. Utilized by over 500 organizations in various industries globally, it is a true testament to our user-friendly interface, simple yet innovative features, affordable pricing, and exceptional customer support. We are committed to providing the best online training platform solutions in the market, and take pride in helping empower your employees with the knowledge and skills they need to continue making your organization a success.
To learn more about SkyPrep's newest integration, request a call and one of our product specialists will assist you shortly.
---