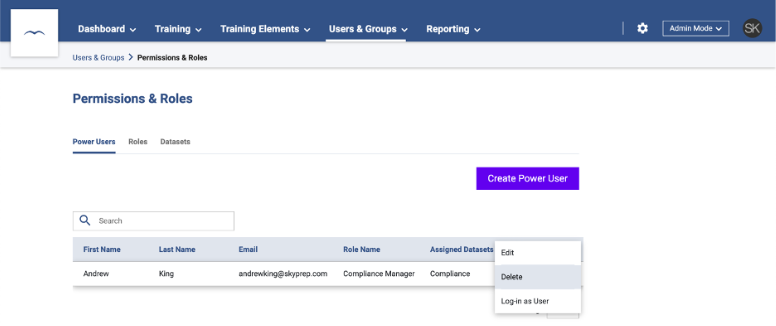 SkyPrep Adds Custom Roles and Permissions to Its Feature List
SkyPrep has released their new Permissions and Roles feature. This feature will allow you to create unlimited custom roles within the LMS platform, while giving you full control over what users can view and access. This area is divided into three separate tabs, Power Users, Roles, and Datasets.

Roles
Determine the permissions you want assigned to a user, such as the ability to edit courses or update course progress.
Datasets
Determine where those permissions are applied, such as which courses they can edit and whose course progresses are visible.
Power Users
Users that have a specific Role and Dataset applied to them.
To begin the process of creating a Power User, click on the Roles tab and then on the Create Role button. Once you have done this, you will see all of your permission options that are available, each broken down into categories. Here you have the choice of selecting the checkboxes that apply, based on the permissions you would like the Power User to have.
Once you have chosen the permissions, you can now click the Create button. 
You will also need to create a Dataset. This will specify where the newly created role will apply its permissions.
On the following page, you'll be able to start specifying items and areas users can access and view. Most options will have three settings, None, All, and Subset.
Regardless of what you've chosen, it is important to determine what users will need access to. For example, if you want a Power User to be able to manage course enrollments, they will need viewing permissions for both Courses and Users.
Once you've created your Role and Dataset, click on the Power Users tab, then on the Create Power User button. And just like that, you've effortlessly created your first Power User! In the Power Users list, you will now see them listed, together with options to Edit, Delete, and to Log In as User.
To take a more in depth look into SkyPrep's Custom Roles and Permission Feature, you can visit us on YouTube or SkyPrep articles. If you have any questions, request a call and one of our product specialists will assist you shortly.
---