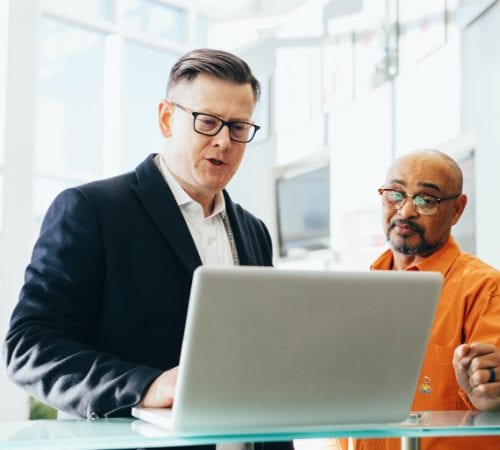 LMS Onboarding Features You Need to Run a Successful Onboarding Program
An LMS will help you to manage and deliver your onboarding training program. But not all LMSs are created equal. There are certain features that can help you elevate your onboarding process so that you can provide the most impactful training for new employees. You'll be able to enroll learners into relevant training, keep track of their progress, and make their onboarding experience more engaging. These seven features we are going to cover should be considered if you plan to deliver onboarding training. 
An LMS will automate user creation, so you don't have to spend time manually creating and uploading new users into the platform. You can create multiple users at once through bulk uploads and imports. Simply upload a list of new employees to your LMS, and those users will instantly be added. You can also enable self-registration which allows users to add themselves to the platform through a sign-up form on the login page.
If your organization uses an HR or CRM platform, you can connect it with your LMS.  New users are automatically created in your LMS as soon as their information is entered into the HR or CRM system. For example, if you hired a dozen new employees and created their profiles in ADP, those same users will automatically be added to your LMS.
You can assign new learners into upcoming training based on user properties such as user type, title, location, department, and course completion status. For example, finance employees can be enrolled in a consumer financial protection course, or sales reps can be assigned to sales and product training. 
An LMS should provide you with the ability to organize your new hires into a specific group. You will be able to assign onboarding courses or learning paths to that group. All users within that group will then be instantly enrolled in them.
If your LMS is connected to your HR or CRM system, once you create the profiles of your new hires in those systems, they will be instantly created in your LMS.  You can set rules to automatically assign them to onboarding training. 
The auto-enrollment feature will ensure your new team members are immediately assigned to relevant training. It eliminates having you to do this all manually. 
Onboarding training typically contains multiple courses or modules. It is beneficial to set up automated alerts and reminders to help your new team keep track of their training requirements. You can send automated emails based on various criteria you can set. Alerts can be sent out notifying learners who did not start a course or have training with a due date that is fast approaching.
A learning path allows you to organize and structure many courses and modules together in a single group. Learners will be able to go through course by course and progressively build knowledge. 
You can enable course sequences to keep learners on track. Set prerequisite courses they have to complete to progress to the next class. For example, you can structure your sessions, so a learner has to complete orientation training first before they move on to the company policy course.
Utilizing learning paths will make it a lot easier for learners to keep track of what they need to take. It also makes it easy for admins to have visibility into everything going on within their onboarding training.
To encourage your learners to supplement their learning, upload your training resources to a central location within your LMS. You can upload various material types such as videos, course notes, presentation slides, images, and PDFs. Employees will have access to these training materials anytime and anywhere to seek answers if they get stuck in a particular area or have questions. It will also free senior employees' time as new hires can get the help they need online.
You want to create a positive first impression with your new employees. Being able to customize your LMS platform with white labeling options will reinforce your brand and create a stronger identity. With your LMS, you can use custom logos and colors, and personalize login pages and email notifications. This will go a long way to help build and strengthen your community.
When employees are more engaged with their training, they will put more effort and time, which will increase their knowledge retention.
Your new team members must be getting the most out of their training to be highly productive workers. Utilizing LMS reporting capabilities will give you insight into learner progress and help you to identify any improvement areas. You can see what is resonating with your audience and which sections learners are struggling in. You can also leverage assessments to test the knowledge of your team and ensure they understand the content. 
These reports can be sent directly to your inbox or to stakeholders to keep everyone up-to-date. For example, you can generate a report to see which learners did not pass a particular onboarding course. You can automate this report by having it sent out every Friday afternoon based on results from that week. You will have a list of users who failed that course, and you can put measures in place to ensure they pass the course. You will be able to remind them to retake the course, offer extra resources on that specific topic, or reach out individually to those users to find out what the issue is.
Final Thoughts:

An LMS that has all the features we highlighted above will help you to effectively manage and deliver your onboarding training. You will be able to provide higher impact training and create a better performing workforce.

To learn more about these features within SkyPrep, please contact us for a free trial or demo.
---