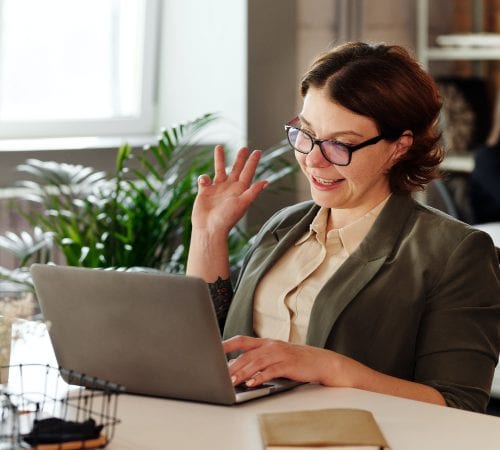 4 Tips for Onboarding New Employees Remotely
Remote employees have gone from being rare in organizations to becoming a major part of the workforce. In fact, companies such as Twitter and Shopify have recently announced that they are going to sustain remote working policies beyond the COVID-19 pandemic. With these changes in working dynamic, companies are having to rethink how they onboard new hires.
Since a good onboarding process improves employee retention, it's important that companies invest time into making this process efficient and welcoming. Below are a few tips for creating a positive onboarding process for remote hires.
Consolidate Onboarding Tasks into a Single Checklist
A checklist is one of the most helpful resources for new employees, especially for those joining in a remote environment. Checklists provide new hires with an understanding of company expectations, while allowing them to feel like they are progressing within the first few days and weeks. A common strategy involves creating a checklist of 30, 60, and 90-day goals. However, if you're interested in evaluating short term progress, consider establishing daily and weekly goals. Employees onboarded in a remote setting may appreciate the added structure.
When you're building your onboarding checklist, be sure to attach helpful resources. Documents that include how-to tutorials, your company history, and team values are all helpful for new hires. Additionally, providing contact details can prove to be extremely valuable as well. For instance, if a new hire is learning about the product and has a question, they might appreciate a quick conversation with a member of the engineering team. This not only speeds up the learning process, but it helps them become connected with other members of the company.
Make Connecting with the Team Part of the Task List
It's always a little intimidating joining a new company. The amount of change experienced from meeting new people and taking on different work can make the initial stages feel a little daunting.
To get new employees comfortable, one of the most important things you can do is get them connected with team members. Of course, doing this in a remote environment will prompt a little more planning and preparation.
Your company likely uses video calling software such as Zoom or GoToMeeting to host virtual meetings. However, this can be used for other purposes besides formal business meetings. Consider scheduling a team meeting where this person can be introduced. Have a few questions prepared that allow their background information to be shared. Some of these questions might involve topics such as previous work experience, where they grew up, and hobbies outside of their job. Other team members can use this as an opportunity to share a brief introduction as well.
Once this is complete, consider scheduling one-on-one meetings between the new hire and each team member. Encourage them to get acquainted over a virtual cup of coffee or tea. It's much easier to reach out to someone down the road if you've already become acquainted in a more informal manner.
Does your company use a messaging platform such as Slack, Microsoft Teams, or Google Hangouts to keep connected? Ensure that the new hire has been added to the relevant channels so that they can participate in company conversations.
Check in on the New Hires Regularly
It can be easy for employees to become disconnected in a remote environment, especially if they are new and still learning the company dynamic. To support new hires, be sure to check in on them regularly. You don't have to be a helicopter manager and message them constantly; but instead, consider scheduling a few one-on-one meetings during the first couple of weeks.
These meetings don't have to be long – even just 10-15 minutes can do the trick. This time can be used to discuss roadblocks, clarify projects, or provide further understanding about company operations.
Also, make sure that you are accessible through your company's messaging platform. As the employee goes through the onboarding process, they may need access to resources or have quick questions to ask. This is a great way to provide support without going through the effort of scheduling a meeting. Additionally, unlike video meetings, messaging platforms can provide the added benefit of permanency. Employees might find it helpful to refer back to a conversation's history to obtain a piece of information.
Ask for Feedback
As an employer, providing feedback to your new hire is an essential part of the onboarding process. However, it can also be extremely beneficial to request feedback from the new employee about their experience. This information can be used to improve the onboarding process in the future and enhance the employee experience.
When obtaining feedback, avoid asking vague questions such as "do you have any feedback regarding our onboarding process?". To obtain more valuable information, ask open-ended questions about specific elements of the onboarding process. Some examples could include:
What steps would you add to our onboarding process?
What could be improved about our onboarding process?
What was your favorite part about our onboarding process?
How could our onboarding process be more organized?
Was there any information missing as you progressed through our onboarding process?
If you expect remote hiring to be a part of your company's future, then it is probably worthwhile to gain feedback and improve the process.
Final Thoughts
It will certainly take longer for remote hires to get up to speed, but this doesn't mean that the onboarding experience can't be efficient and enjoyable for new employees. Good communication combined with the use of proper technology is the equation for a good onboarding experience. If you keep these tips in mind, then you're sure to be on the right track.
Author Bio
Megan Doleweerd is a Marketing Coordinator at InFlight. InFlight is an Employee Experience Platform (EXP) that optimizes existing software investments to resolve bottlenecks that result from overly complicated applications creating friction for candidates and employees. InFlight uses analytics to improve the user experience, reduce training and support requirements, and streamline workflows for existing HCM, ATS, Financials, and other applications.
---