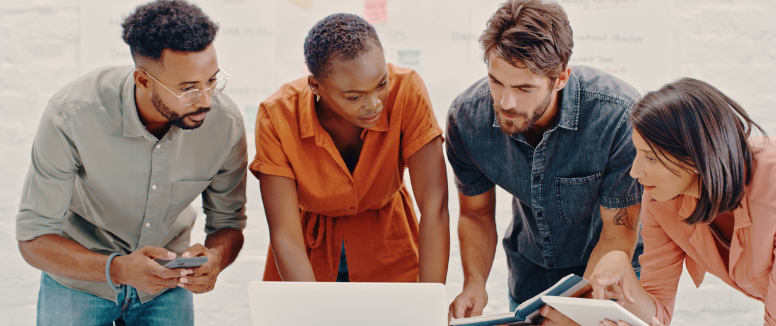 4 Online Training Activities to Include in Your Employee Onboarding Program
Many adults, on average, do not enjoy constantly being told what to do. Our psyche is forced to respond in either a compliant way, a rebellious way or a variation of these degrees. Either way, when it comes to training your employees online, self-paced training is the way to go. It allows employees to learn when and how they want, giving them the freedom to take the reins on their own professional development journey. New employees can sometimes feel rushed in the onboarding process, but there are many ways you can eliminate this feeling while still making sure your onboarding program is impactful. Here are some onboarding activities you can implement into your online training program to ensure your new hires transition seamlessly into your team.
1. Mini Knowledge Exercises
Joining an organization that throws you right into the deep end on your first day is quite nerve-racking. These types of organizations typically do not have an employee training strategy or structure. It is the type where new hires, and even veterans float around with no definite direction. It is not realistic to revamp your entire corporate training program overnight, but what you can do is offer your employees (new and old) a digital helping hand. Within your LMS, curate a collection of short but detailed tutorials. It can simply be about daily tasks at the office, or more personalized role-specific content for remote employees. If your employees happen to hit a roadblock or are unsure about a procedure, they can review this content at any time by simply logging in to your learning management system.
2. Create Learning Paths
On a daily basis we all make decisions, big or small and sometimes we may not tune in to the why and how that drives these actions. Supervisors and managers should have an overall idea of how their new employees think, so they will know where to get them started in their training. Learning paths are helpful because they will allow you to see what choices were made throughout your employee training exercises and track progress. Additionally, you can also have employees explain why certain answers were selected. Learning paths allow you to create a series of quizzes and scenarios that will gradually increase in difficulty as they move through at their own pace. This training material can also be revisited at a later date if they fell short on particular topics and would like to improve.
3. Gamifying The Many Levels Of Compliance Training
Bending the rules every now and then in our daily lives might give us a bit of a thrill, but not the same can be said in regards to compliance training. Compliance training can be complex, but instead of making it lacklustre and tedious, opt for a training module that is in the form of a content-rich, progressive game. Instead of employees yawning and tuning out after reading clause after clause, gamification within your training program will keep them engaged and have them thinking they are playing digital snakes and ladders. Trainees will be able to navigate back and forth and review and repeat sections as they wish.
4. Personalize Just In Time Training
New hires may not know what courses or skills they need to possess moving forward, after onboarding training. Enrolling them in a couple personalized courses will help them get started in their new roles. Curate a personalized course library based on their current role and department, allowing them to navigate as they would like.
A learning management system such as SkyPrep can help you facilitate a seamless onboarding program. To learn more about delivering an effective onboarding experience, request a call and a product specialist will reach out to you shortly.
---