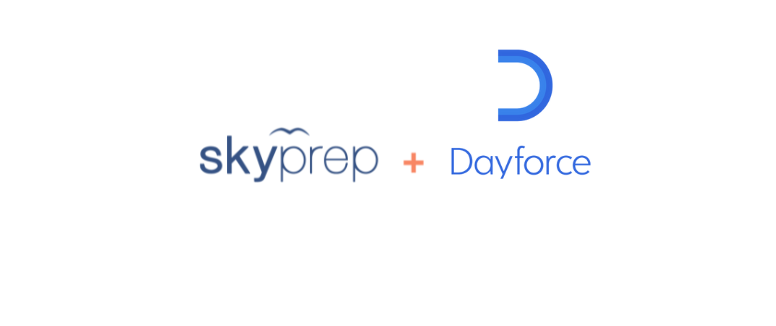 SkyPrep and Ceridian Dayforce: Seamlessly Integrate Your HCM System with Your LMS
We are excited to announce the integration of SkyPrep + Ceridian Dayforce. Ceridian Dayforce is a cloud-based human capital management (HCM) platform that provides a comprehensive suite of tools for managing the entire employee lifecycle. It includes features for payroll, benefits, time and attendance tracking, scheduling, performance management, recruiting, and more. The platform helps businesses to automate, streamline, and gain insight into their HR processes, while providing employees with tools to manage their own work lives.
Ceridian Dayforce offers a range of benefits for businesses of all sizes. These include:
1. Streamlines Human Resources processes: Ceridian Dayforce simplifies the entire human resource management process, from tracking employee hours and absences to onboarding and payroll.
2. Automates payroll: Automatically calculates payroll based on employee time and attendance data, eliminating manual errors and saving time.
3. Improves employee engagement: Employees have access to their own self-service portal, allowing them to view their pay, access benefits information, and manage their own time off requests.
4. Enhances compliance: Ceridian Dayforce helps employers meet their compliance training needs by providing them with a comprehensive view of their employee data, as well as tools to help them stay up-to-date on changing labor laws.
5. Increases efficiency: Ceridian Dayforce helps make the entire HR process more efficient by streamlining processes and automating tasks.
6. Enhances reporting: Employers are provided with real-time visibility into their employee data, allowing them to easily generate reports and analyze trends.
SkyPrep + Ceridian Dayforce: How It Works
To begin setting up your Ceridian Dayforce integration, click on the Settings button and then on Integrations. Next, click Add to SkyPrep under Ceridian Dayforce. Set the integration to Enabled and fill in Client Namespace, Username, and Password for your Ceridian Dayforce account, and designate what user fields you want to use in the Expand Fields area. The expected format for Expand Fields is comma-separated text with no spaces, such as "contacts,employmentstatuses,managername".
For a full step by step guide and to learn more about getting started with the SkyPrep + Ceridian Dayforce integration, click here.
The SkyPrep LMS + Ceridian Dayforce integration enables organizations to streamline the delivery and management of their employee training and assessment programs. This integration allows employers to easily sync their employee data from Ceridian Dayforce to SkyPrep LMS and vice versa. Utilizing this integration will allow organizations to have the ability to track and manage employee training progress and generate insightful analytics from within a single platform. Additionally, this integration allows organizations to quickly and easily deploy learning and development initiatives to their entire workforce.
If you would like to learn more about the SkyPrep + Ceridian Dayforce integration, please contact us and we will be more than happy to answer your questions.
Contact Us To Learn More About The SkyPrep + Ceridian Dayforce Integration
---