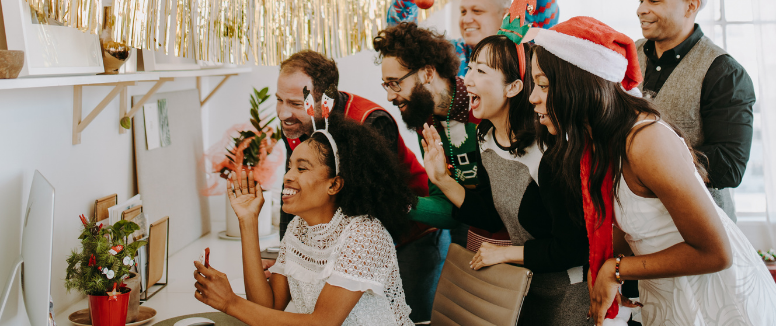 5 LMS Features You Need in 2022
Now that the year is coming to an end and you'll be wrapping up 2021, we wanted to share a list of the top five LMS features we think are beneficial to incorporate into your employee training programs in 2022. These features will enable your organization to elevate its employee training and will help cultivate valuable skills and development. Not every LMS software has kept up to date with the times, or offers the same features. With that being said, this list can also double as a guide for features you should consider if you are planning on elevating your employee training and development in the new year.
1. Diverse Content Creation Options
There are many different learning styles and because of this, no group of individuals will all learn the same exact way. The right LMS will offer you options to help you create diverse content for all learning styles. Some of these content creation options can include audio, written content, videos, live webinars, or gamified courses. You can also allow employees to tailor their learning experiences themselves, by giving them the choice to select courses with content formats that work best for their individual learning needs. This is beneficial because it can become impossible to keep track of everyone's unique learning style. This feature that tailors the learning experience will help employees retain information better and enables them to apply it in their professional roles more effectively.
2. Ability To Connect Socially
Your employees will learn by taking your curated courses, but another significant factor to consider is the social aspect of your training. Creating an online learning community for your employees can enable peer-to-peer support. This is extremely beneficial if employees are working remotely. Your LMS should allow you employees to be able access learning material at any time, so they can revisit and discuss particular subject matters together. Consider which communicative form will best support the learning process in your organization. Tools such as G Suite, Zoom, Facebook, Microsoft Teams will allow employees too easily connect with instructors and fellow learners.
3. Virtual Classrooms And Webinar Management
If your organization usually hosts in-person training sessions, virtual classrooms and webinars can be your new go-to's. With social distancing mandates and capacity limits still in effect, these tools are essential to incorporate into your training strategy. This live content can also be recorded and repurposed by implementing it into future training courses of the same subject.
4. Personalized Employee Learning Paths
Your LMS should offer you the ability to create a logical journey for your employees in the form of 'learning paths'. Learning paths guide employees through learning material in a specific order, and allow them to access different courses and content based on what they have successfully completed. Learning paths will give employees clear instructions on what content needs to be completed first. Once they have successfully finished one course, your LMS can automate their next module.
5. Assignments To Increase Knowledge Retention
A well-designed employee training program will keep participants engaged and increase memory retention. Your LMS should offer features such as:
Assessments: Participants will be asked to submit a short writing piece or answer a series of questions.
Tests/Exams: Top Tier LMS platforms will offer the option to incorporate tests or exams throughout your training courses to help to determine what information is being retained.
Polls/Surveys: If you would like to keep the workload a little lighter, but still keep your learners engaged, you can incorporate surveys and polls. Surveys and polls will still be able to provide you with valuable insight into what's working, what's not and help you reassess.
These assignment features will ensure employees are committed to learning and paying attention, not just trying to get through the course to receive a certificate.
A learning management system with these features will help your organization stay on top in its industry. SkyPrep provides integrated corporate e-learning solutions to help top companies facilitate online training and knowledge sharing in their organizations. Start incredible learning experiences today.
---