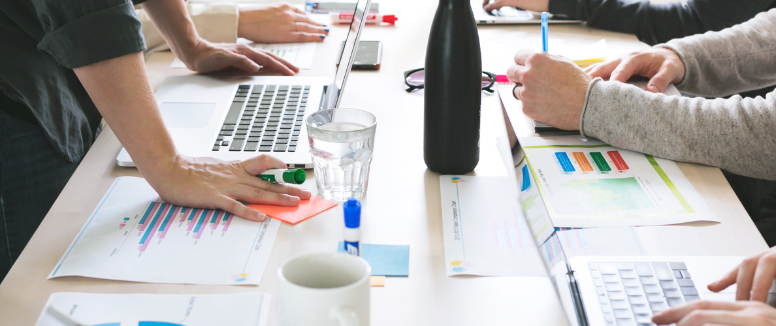 Employee Training Software: What Features Are Necessary?
In order to get a high return on investment (ROI) and to build a better business case within your company, it's important to choose an employee training software that helps you achieve your training goals. To solidify a better learning experience for your employees, find a training platform with the following must-have features.
1. Course Creation
The employee training software you choose should allow you to seamlessly create effective courses by building assessments, checklists, and knowledge checks. The content authoring tool should offer SCORM (Sharable Content Object Reference Model) compliance, so that your content is interoperable. Plus, it should also allow you to reuse content, saving you from the hassle of creating every course from scratch.
2. User Management
The employee training software should help you minimize duplicate data entries and automate administrative tasks to streamline the user management process. Training managers and supervisors should be able to create and manage user accounts and set access rights to ensure that only those approved have access to the content.
3. Reporting and Analytics
You should be able to enhance the impact of your training by getting actionable insights from the software's comprehensive, out-of-the-box reporting. The employee training software should give you real-time visibility of your learners' journey and progress. This instantaneous feedback allows you to change training material when you identify a lack of growth. You can also track popularity of your courses by monitoring registrations. The tool you choose should be equipped with robust reporting features that allow you to observe closely where all your learners are in their courses, and how much work is still left to be done.
4. Customization
The employee training software should offer white labeling so that you can match your company branding by customizing your platform like logos, colours, certificates, emails and more. Along with customizing the platform, you should be able to personalize user experiences as well. To encourage extensive adoption, an employee training software should provide content based on a learner's history within the tool, as well as their role. For example, if an employee is in a marketing role, they should easily be able to find more marketing-related training content in the tool.
5. Workflow Automation
An employee training software should have features like course auto-enrollment, automated alerts, and more to automate tasks and processes. Automated alerts and notifications help trainers and managers become aware of how employees have been engaging and completing course materials. By sending auto-alerts to employees about their training deadlines or notifying trainers on user completion rates, an employee training tool can provide feedback to the right people at the right time.
6. Integrations
An employee training tool should seamlessly connect to your other business tools with built-in integrations. For instance, you can integrate SkyPrep with tools like ADP, Zoom, Google, and more. This feature enables trainers and L&D professionals to supplement learner information with important course completion data.
From course creation to measuring impact, an employee training tool should provide you with all the tools to ensure your training makes a positive impact for your workforce and business. With over a million users across the globe, SkyPrep meets all your needs and goes beyond. Its software is effortless to navigate and helps you work more efficiently in delivering, tracking, and reporting on training.
---