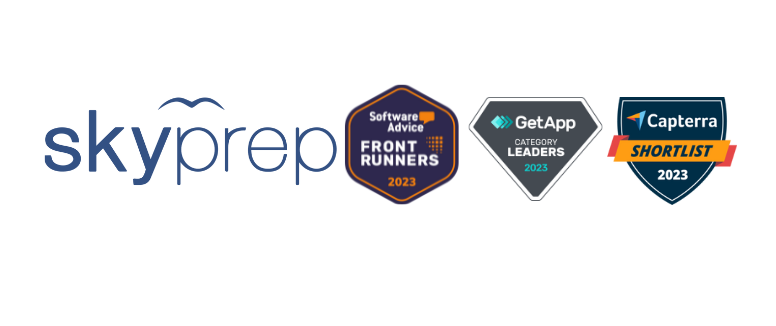 SkyPrep Recognized in Multiple Gartner Digital Markets
We are proud to announce SkyPrep has been recognized as a top LMS in multiple Gartner Digital Markets brands (Capterra, Software Advice, and GetApp).
Our Incredible Badges Include:
Capterra
Capterra Shortlist 2023 is an annual list of the top software products and services for businesses, compiled by technology research and review firm Capterra. The list is based on customer reviews, ratings, and market presence. The Shortlist includes the best software options for businesses, based on categories such as financial management, eLearning, customer relationship management, eCommerce, project management, and more.
"SkyPrep meets all our needs…and goes BEYOND!"
– Jennifer A.
Software Advice
Software Advice Front Runners 2023 is an annual list that recognizes the top performing software products in the market. The list is based on an algorithm that evaluates the overall user ratings and reviews from the Software Advice website. The Front Runners list includes software solutions that are highly rated by Software Advice users, providing businesses with a comprehensive list of the best software products for their needs.
"This leaves the others in the dust"
– Steve
GetApp
GetApp Category Leaders 2023 is an annual report from GetApp, a business software directory, that identifies the top-rated software solutions in each of the categories featured on their platform. The report is based on the opinions of real customers who have used the software and rated their experience. Each year, GetApp evaluates the performance of software solutions in over 40 categories and publishes the Category Leaders list to help businesses identify the best solutions for their specific needs.
"They are continuously improving their services and features, as well as provide quick updates and customizations"
– Jennifer
About Gartner Digital Markets:
Gartner Digital Markets is a Gartner business unit composed of Capterra, GetApp, and Software Advice. It is the world's premier source for software vendors to connect with in-market buyers, through research, reviews, and lead generation.
For more information, visit https://www.gartner.com/en/digital-markets
About SkyPrep:
SkyPrep LMS is an award-winning, intuitive industry leader. It enables you to deliver effective internal training, onboarding, compliance training, and more to your employees, partners, and customers. Utilized by over 500 organizations in various industries globally, it is a true testament to our user-friendly interface, simple yet innovative features, affordable pricing, and exceptional customer support. We are committed to providing the best online training platform solutions in the market, and take pride in helping empower your employees with the knowledge and skills they need to continue making your organization a success.
Want to review SkyPrep? Click here.
---