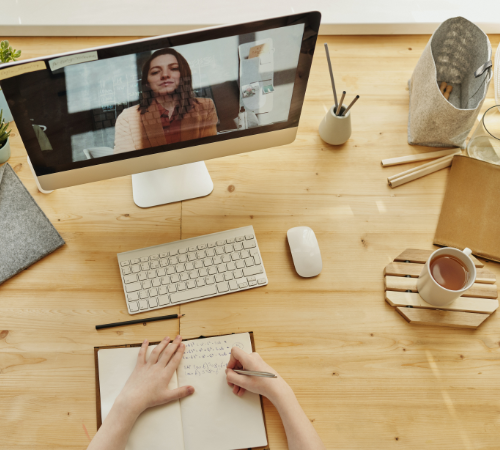 Online Learning Amidst COVID-19 and Beyond? What Are the Benefits?
The Coronavirus pandemic has compelled many organizations world-wide to experiment with online remote training. This crisis continues to transform many areas of our life. Online learning and training being one of them. Many organizations have had to transition to online learning during COVID-19 expeditiously.
When implemented correctly, online learning methods bear endless benefits.  It appears organizations will have to consider putting a halt to in-person training for the foreseeable future. Let's take a look at some of the benefits online learning has presented amidst the COVID-19 pandemic and get a clearer view of where the future of eLearning is headed.
1) Flexibility
Online learning allows learning and development administrators to utilize various learning methods for different groups of learners and it enables learners to set their own learning pace. With the use of online learning, you have the advantage of scheduling your learning time when it fits your own agenda. This flexibility of using an online training platform also known as an LMS (learning management system), allows learners to create a better balance between their work schedule and their study time. This flexibility helps reduce stress and anxieties individuals may face. For instance feeling pressured to fit all work, learning, and personal tasks into their schedule within a specific time frame. With the flexibility of learning online, there is no need to give anything up. Online learning makes it easier for you to find a good work-study balance and creates opportunities for you to have more autonomy within your day-to-day life.
2) Online courses are more affordable
When selecting an online learning program, the most common deciding factor for learners continues to be tuition and fees. Online learning is extremely cost-efficient. When you become enrolled in an online course you are eliminating your commute and housing expenses. Therefore online training programs are generally more affordable.
3) Great accessibility
The virtual classroom feature is available anywhere you have access to an internet connection.
One of the beauties of online learning is the accessibility. Online learning systems enable you to study or teach from anywhere in the world. This amazing benefit eliminates the need to worry about commute times from one location to another and dispels having to follow a rigid schedule. Not only will you save time because of this, but you will also be saving money, that you can now allocate to spend on other priorities.
Post COVID-19, another advantage of this is when you are traveling. For example, if you are enrolled in a course but feel the itch to explore new and exotic places, you do not have to put a pause on your learning, as you will be able to access it anywhere and any time. In addition, if you are studying overseas and want to get a job in your chosen field, online courses are a great help.
4) Develop important skills
Online learning empowers us to build certain skills such as self-discipline, self-motivation, and communication. Once you get into the groove of things and figure out what worlds best for you, you will find that you are able to progressively develop and hone these skills, which will be very useful for the workplace.
For instance, you will need to communicate verbally via Zoom calls or written on integrated messaging tools, with your instructors and peers regularly. This allows you to sharpen your communication skills on both avenues. You will also need to find ways to stay motivated and complete your online courses and assignments on time. There is less "hand-holding" in this learning model and more opportunity for independence. An online learning environment also allows you more time to study the material and then make comments and considerations based on your observations.
5) A more customized learning experience
As mentioned earlier, flexibility can help you set your own study pace. Online learning and online training  is also flexible in the way that it can cater to each learner's individual requirements and level of ability. In comparison to conventional in person class sizes, online virtual classes tend to be smaller. This allows for greater interaction and more personalized feedback between you and your instructor.
Additionally, when you are enrolled in an online learning system, you will have access to diverse content such as videos, eBooks, forums, discussion channels and other resources. This material will be readily available to you at any moment, from any location, which offers online learners a more personalized, dynamic learning experience.
There are countless more reasons to veer towards an online learning experience, than those discussed today. Virtual learning presents endless options.
Request a demo to find out how SkyPrep can be implemented into your organization to meet your remote training needs and goals.
---