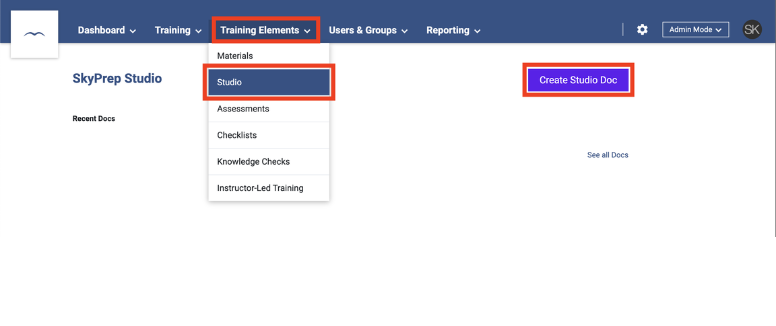 SkyPrep Adds Studio Docs to Its Feature List
SkyPrep has released their new content authoring tool Studio Docs to its features list. The Studio Docs suite lets you create engaging content and helps you publish them right from within your SkyPrep LMS platform. Studio Docs embodies the top key elements of an effective content authoring tool: seamless functionality, intuitive user-friendly interface, and adaptive content design. The following are some features that are included in Studio Docs:
Studio Doc Builder
Publish Document: This button confirms your changes and applies them to the live instances of the document. You will have the option to choose whether users that have already started the content will be affected as well.
Undo/Redo: Use these buttons to undo or redo changes that were made to the platform.Document Versions: Allows you to see the different versions that have been published, as well as the number of users that are currently viewing, are in progress in, or have completed each version.
Document Settings: Lets you set document-wide settings and will be explained in the next section.
Preview Button: Shows you what the document will look like from the Learner's perspective.
Insert Panel: Allows you to drag-and-drop Content Blocks into Sections that you create.
Table of Contents: Shows you a breakdown of all of the document's Chapters, the Sections they contain, and icons that show which Content Blocks are being used. The buttons to create a new Chapter are also found here.
Contextual Panel: The contents of this panel are determined by the current Content Block that you are working on.
Document Settings
Question Details: If your document contains questions, you'll be able to specify how many points a correct answer will give on a per-question basis, as well as how many total points the user needs to achieve for a passing grade.
Learner Settings: You can require your Learners to upload a file before completion is credited. You can also opt to show or hide a document progress bar and/or the table of contents.
Document History: An audit trail that shows historical changes that were made together with who made the changes.
Export: Allows you to export the document as either a SCORM 1.2 or PDF file, or share it via email or a URL.
Images
Image Style: Contains buttons to replace or remove the image. You can also choose between stretching the image, cropping the image, or fitting the image to the content block. Below, there's the rotation buttons and text fields to add a caption, alt text in case the image doesn't load, and a URL that the image can redirect to.
Image Design: Lets you add a custom border or overlay text over the image.
Question Formats
Multiple Choice: Type a question and enter the possible answer choices. Users can be required to select one or multiple options based on which multiple choice type you choose.
True or False: Type a statement and set whether it is true or false.
Order: Type a list of items in order from top down. Learners will need to reorder a scrambled version of the list.
Mix & Match: Type two lists of items, with each row a matching pair. Learners will need to identify which pairs match in scrambled, side-by-side lists.
Fill in the Blank: Type the full, correct phrase in the text and field and select the word that should be hidden. You can enter additional words that will either be shown or accepted, based on whether Word Bank or User Entry styles are chosen.
Short Answer: Enter the question text and choose how a Learner can respond. You can choose between a video response, text response, and an audio response, with the option to require a response.
Video
Video Settings allows you to replace the current video with a different selection. You may upload a video file directly from your computer or search Youtube and easily embed any video.
Feedback
This content block allows you to collect feedback from your Learners through various formats. Feedback can be collected in the form of:
Short Text: Allows Learners to submit typed feedback.
Multiple Choice: Allows Learners to pick feedback from the provided options.
Rating: Learners can submit a rating on a customizable scale that ranges from 1 to 10. You can also change the icon that is being used for the ratings.
Opinion Scale: Allows users to submit a rating on a scale that can be numerical or based on emotional response, such as Strongly Agree vs Strongly Disagree.
To learn more about the additional features of SkyPrep's Studio Docs, you can visit us on YouTube or SkyPrep articles. If you have any questions, request a call and one of our product specialists will assist you shortly.
---