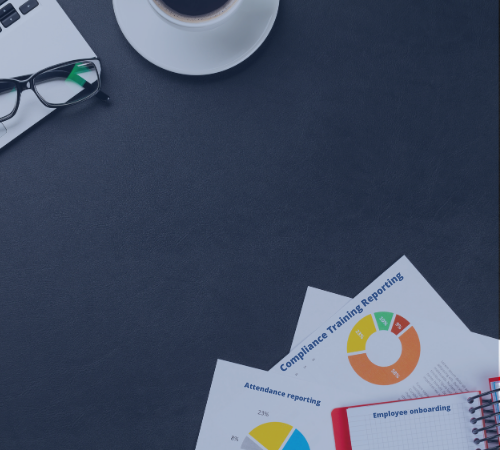 5 Reasons Why Your Organization Needs to Adopt a Learning Management System
A Learning Management System, often called LMS for short, is a platform that provides your organization with the framework to help you create, manage and deliver eLearning courses. Essentially, it is where you administer, document, deliver, track and house your training content.
The implementation of an LMS aids in making life easier for your learning and development department. It can help them assess and identify individual and organizational goals, track progress towards meeting these goals and collect data for the administration of the learning process.
Let's explore the many advantages of using a Learning Management System to design and deploy eLearning experiences.
1) Reduces Learning and Development costs
A Learning Management System (LMS) grants you the power to totally eliminate instructor travel costs, and printed eLearning material, to say the least. Additionally, it reduces employee travel, minimizes facilities and instructors to pay, and optimizes training expenditure. With learners performing all of their training online, you can save a sizable amount on your Learning and Development budget. For instance, you will no longer have to worry about printing out 300 employee training packages or booking hotel rooms for your instructors. All the material your learners require will be centralized in your LMS. From a cost-savings aspect, an LMS is a no-brainer!
2) Meet regulatory compliance
An LMS will help you stay up-to-date with compliance regulations. Many industries are required to train, assess and report for compliance purposes. A few of these industries may include-pharmaceuticals, oil and gas, communications, building and construction.
Compliance laws may change regularly, and updating your course to reflect these changes each time can be a daunting and time-consuming chore. However, the use of a corporate LMS allows you to effortlessly add new compliance standards to your online training course, prompts deadline reminders and enables recurring training.
You will have ease of mind knowing your corporate learners will always be aware of the latest compliance rules so your organization can avoid costly penalties. When your company utilizes a Learning Management System, you have the power to ensure your employees are on the same page when it comes to company policies and expectations.
This boosts customer satisfaction and decreases employee turnover rate. Ultimately, an LMS can help your organization satisfy legal and regulatory requirements, this alone can be an invaluable tool.
3) Easily tracks learners progress and performance
A robust Learning Management System provides you the ability to keep track of your learners' progress and ensure they are meeting their performance standards and milestones.
For example, if an online learner is unable to successfully complete an eLearning course, you can offer the right support and resources to best improve their performance and learning experience.
Learning Management Systems also feature reporting and analytics tools that allow you to pinpoint sections of your eLearning course that may be causing learners to feel stumped, as well as where it excels. Upon interpreting this information, you can assess the eLearning content and make modifications for your online learners that may be struggling with a particular online lesson.
4) Organizes eLearning Content in one location
An LMS centralizes your eLearning content so your content won't be spread out over various hard drives and devices. All your eLearning materials will be organized and stored in one location. This feature not only helps reduce the risk of losing your important data, but also makes it easier and user-friendly for you to create your eLearning course.
All members of your Learning and Development team can also access the information if you are using a cloud based corporate LMS. This feature makes Learning Management Systems a great fit for online learning.
5) Upskill your employees with remote learning
As a result of COVID-19, many organizations have been required or have chosen to close their workplace and have their employees work from home. An LMS will provide a platform to ensure your employees are continuously learning and covering specific material, even though they may have shifted to a remote model of work.
An LMS can also serve as a virtual classroom. Your employees can log in from wherever their location may be. This provides the flexibility and accessibility they need while trying to maintain normalcy in their new day to day routine. With a remote training software in place, your employees will stay on track to success and improvement and you can ensure physical distancing won't be an issue.
Generally, learning management systems have many more capabilities than these listed. Get in touch with a SkyPrep product specialist to determine how SkyPrep can help with your training needs.
---