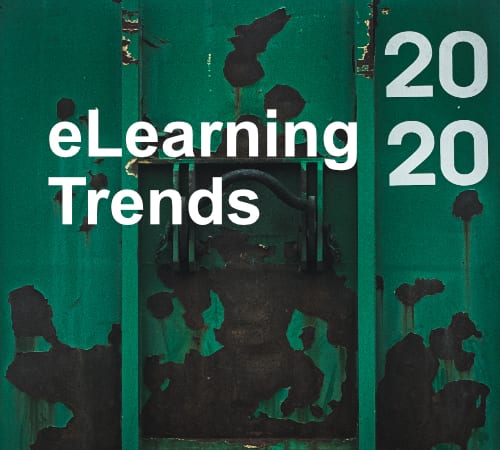 5 eLearning Trends to Watch for in 2020
With the development of the global eLearning industry projected to upsurge 11% by 2020, investment in workplace learning and development (L&D) is set to increase yet again this year. 
However, with workers changing roles about fifteen times in their career and skills having a shelf life of just five years, where will this L&D investment go? 
Extracting trends from top industry reports, in this article, you'll discover our forecasts for eLearning trends in 2020.


Top 2020 eLearning Trends


1. Mobile Learning (mLearning)


Flexibility has become a crucial aspect of everyday life for billions of individuals. Last year, there were around 6.8 billion mobile users (89% of the population), which is why we predicted mLearning to be one of the hottest eLearning trends in 2019.
This number is expected to reach 7 billion by 2021. So, mLearning continues to be on our list.
Due to the increased usage of mobile technology, more and more people are developing a strong predilection for mobile learning. Around 99% of mobile learners believe that mLearning improves their learning experience. Moreover, 67% of individuals access training content via mobile devices.
This is why many companies are embracing mlearning as a part of their L&D strategy.
But why is mlearning getting so much popularity? This is because it allows learners to consume learning content whenever they want and wherever they want. Plus, it helps trainers to observe the trainee's performance diligently.
Keeping in view the advantages of mlearning, such as convenience and flexibility, this elearning trend is continuing to keep raging in 2020 (and beyond).
2. (More) Social Learning


According to a Brand Hall Group report, 73% of organizations will increase investment in social learning in 2020.
The organic nature of social learning establishes a strong association between co-workers in the office. It's the kind of learning that occurs through several modes such as informal chats, forums, learning circles, and sharing sessions.
The fusion of eLearning tools with social learning has made training more accessible, open, efficient, and applicable to the modern workplace.
3. The Inescapable Growth of Immersive Technologies


Just like artificial intelligence (AI), immersive technologies such as Augmented Reality (AR), Virtual Reality (VR), and Mixed Reality (MR) are prospective to alter the eLearning landscape. Although these technologies are still in infancy, they're already making waves in the eLearning industry.
 Currently, AR is the most predominant immersive technology in the domain of eLearning. It helps amplify existing training content via stimulating images and visuals. The basic goal is to provide a truly immersive learning experience that excites and involves trainees.
What does that mean for you as a company? Suppose you're an insurance company. You can use AR to improve fire or disaster assessment training just by taking an actual house then superimposing it with visuals of fire damages. Next, use the resultant graphics to train investigators on how to determine where the fire began.
In contrast, VR involves the use of 360-degree photography, real collaborations, and other remarkable elements. Its capacity to support remote learning is an opportune intervention for corporate training in the contemporary office where distance working is the new standard.
4. Microlearning


Did you know, an average employee has roughly 1% of the workweek to focus on professional development? That's roughly 24 minutes assigned for training in a 40-hour week.
With such limited time at hand, it's just not feasible for workers to consume exhaustive content. This is where microlearning steps in.
It involves delivering bite-sized content to enable speedy knowledge acquisition and better retention. In general, undersized learning bits (two to seven minutes) overthrow the long text-loaded content. This easy-to-digest content is intended to help trainees meet a specific objective in their learning path.
As a result, learners in demanding offices can make every minute of training worthwhile. Plus, you can deliver balanced and focused knowledge personalized to the requirements of each learner.
The best part is that you can deliver microlearning via any device that frees your learners from the constraints of time and diminishing attention spans.
5. Video-Based Learning


Here's a fun fact: YouTube users watch more than one billion hours of video daily.
This fact illustrates the quick growth of video-sharing platforms.
According to a survey by Wyzowl, nearly 68% of customers prefer viewing a video over accessing any other type of content to learn about new products and services.
Certainly, with these stats, video-based learning is giving stationary eLearning content a really tough time.
Nowadays, learners would favor to see demonstrations, explainers, interviews, and how-to videos instead of plain text-heavy directions. This is mainly because video is visually tempting, interactive, and more likable. 
It grabs the learner's attention longer than other methods of learning. Plus, it stimulates a fast delivery of information, improves content consumption, and upsurges retention rates.
Since the attention span of a modern learner is on a downward slope, the interactive video is unquestionably going to be a hot eLearning trend in 2020.
Wrap Up


In this article, we've picked the five hottest eLearning trends to help you comprehend how the virtual learning realm is ever-changing. 
From mLearning to immersive technologies to video-based learning, understanding all these trends will allow you to implement training delivery for effective worker growth. 
Also, it will help you tweak your employee training approaches to attain the anticipated ROI.
---