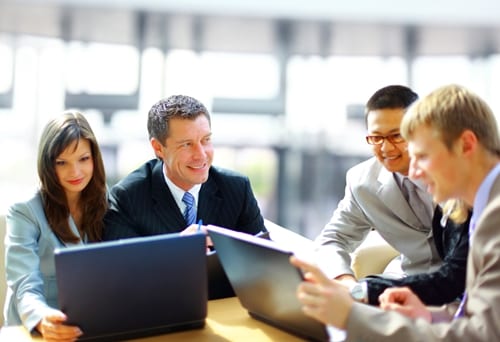 Tips for More Engaging Meetings
For any business, meetings are an inevitable part of operations. From bi-weekly staff meetings and annual process to procedure meetings and project team meetings, occasions will always arise when it's necessary to gather employees together and share ideas, come up with a plan of action or make an important decision. Much can be accomplished during these sessions, but unfortunately, staff members often view them as time-wasters. In fact, a 3M survey found that professionals agree as much as half of meeting time is unproductive and furthermore, up to one-quarter of that time is spent discussing topics that are irrelevant.
If designed in a methodical and innovative manner, though, meetings can become a powerful tool for any firm. Here are some tried-and-true tips to make them more effective and engaging.
Have a clear objective
Before a meeting is scheduled, employers need to ensure that there is a solid reason for conducting one. Colin Angle, chief executive of iRobot Corp, told Boston magazine that he recommends defining the objective for every item on the agenda beforehand. Managers should ask themselves whether the item is up for discussion or debate or merely to update staff members on a new development. Are you implementing new elearning software or online training software that you want staff members to know about? Is there a big decision that you need input on? This will ensure the meeting is focused and efficient. Additionally, Dave Kashen, co-founder and CEO of MeetingHero, explained to Inc. magazine that it's best to ensure there are specific goals on the agenda, and also figure out what the most successful possible outcome is for the meeting.
Time it right
When you schedule the meeting can have a significant impact on its value. On his blog, Andrew Jensen advised against Mondays and Fridays, as employees are most likely to take these days off for an extended weekend. He also noted that these are the days staff members are most likely to be mentally checked out because they're in "weekend mode." So for participation and productivity's sake, Jensen proposed planning a meeting on a Tuesday, Wednesday or Thursday. Staff might be too tired at early meetings or those that start too late in the day, which is why it's best to plan them for the late morning or mid-afternoon – though not too close to the lunch hour, unless you're providing food. According to Jensen, WhenIsGood found in a recent study that the majority of companies cited Tuesday at 3 p.m. as the ideal meeting time.
Be creative
If you don't want employees yawning through your meeting, you'll need to liven things up. According to Fast Company, Virgin Group founder Richard Branson makes it a point to add novelty to these sessions by having inspiring speakers in various fields attend, thus provoking participants to think in "new, exploratory ways." Not only that, but he conducts these meetings in unusual spaces. He suggested walking to a park for some refreshing change of scenery, which can impact staff members' mindsets and give them new ideas. Boston magazine also proposed ditching the desks and chairs. The news outlet cited Kayak as an example, explaining that the travel site often holds their meetings around a foosball table.
---