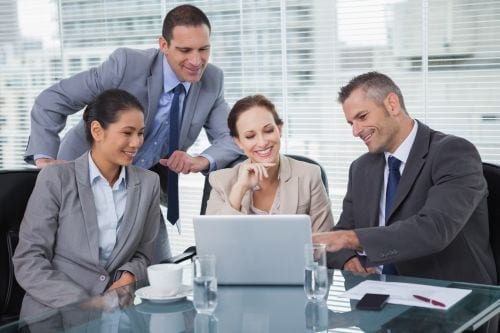 Which Companies Can Outsource HR Easiest?
If your company has less than 50 employees, it makes practical and economic sense to outsource some or all of your human resources needs.
But small businesses aren't the only ones who can benefit from some outside expertise and support. Larger companies are also looking at outsourcing human resources but they are seeking a broader base of services.
For example, even organizations with effective human resources departments may seek specialized experience if they are facing a discrimination complaint, dismissals of high profile managers or large number of employees, or grievances. Others are seeking an expert in compliance issues.
When you decide to look outside your own offices for HR help, use the same thorough process you would when hiring an employee. Check credentials and references, get a clear description of the services offered and the investment associated with them.
You must first decide what kind of a contract you are seeking with your HR consultant. Do you want them to come on board to handle one specific project, such as the recruiting of a large number of short-term workers to handle one aspect of your business that has a definite time frame? Or do you need them to handle the processing of one grievance?
For project work, it is reasonable to ask for a quote for a set price to handle the specific challenge. An example of a project work would be a fish processing plant who needed to hire and train 100 workers for a two-month season.
On the other hand, handling a grievance or a discrimination complaint is difficult to quote because the HR professional will not know from the start if the situation is isolated. If one complaint will open the door to a flood of complaints against a particular manager, and if the matter will be resolved with in-house meetings or by preparing for a court case.
In that case, the professional being hired will more than likely request payment by the hour.
If you don't have a budget to handle such outstanding HR issues, there are other alternatives as HR support lines which will at the very least allow you to obtain another opinion or a suggestion on how a matter can be handled.
Some companies want to have a closer and more personal service from their outsourcing and that involves having an HR pro "on call" to them. A retailer is paid monthly to a person in exchange for the right to call on them as need dictates.
When do you know it is time to raise your hands and call for help for your HR department?
The obvious red flag is when the management of your company is stalled because of a human resources issue. Sometimes technological change can be held up for months, for example, while HR issues are solved. When they are finally worked out, the company may have lost its window of opportunity to remain competitive in their marketplace.
In today's workplace, with sometimes complicated training issues, challenges to recruit specially-skilled talent, and complicated compliance rules and regulations, it always makes sense to seek help through outsourcing human resources issues well before the company finds itself facing a crisis.
For more information on outsourcing HR, contact SkyPrep today!
---