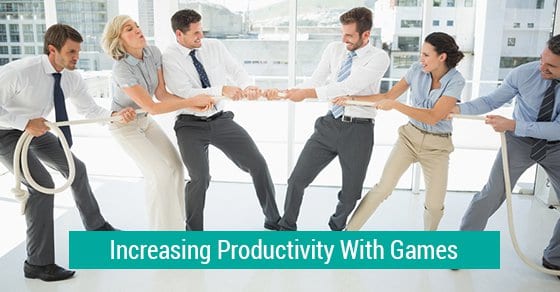 Games That Can Increase The Productivity Of Your Staff
Increasing productivity among your staff is one of the most important priorities for any business. Not only does a more productive staff increase revenue, it can provide a more fulfilling work experience for all members of your organization.
Solutions for improving productivity are numerous, but using games that help increase productivity offers a new and enjoyable way to help your staff become more efficient and increase the sense of teamwork.
Here are a few games that you can use in your organization to help productivity.
A Game of Strength
Tug-of-war is one of the most well known that can be played between two teams. It's incredibly simple to implement and encourages one of the most essential workplace elements: teamwork.
This game encourages your staff members to work together, do physical work, and enjoy the spirit of competition against another side.
Place individuals into two separate teams and be considerate of their size and strength. Do your best to balance each side accordingly. Each side pulls on the end of the rope in an attempt to pull the other side across the middle, easily providing a visual of what you can achieve when you work towards one common goal.
Observation Play
You can use games to improve communication among your staff. The Sneak a Peek game is a fun way to test observation and communication skills among participants.
The game's moderator creates a structure from blocks or other materials. This is done outside of the view of all the participants. Each team has the same materials from which to construct their own structures.
One member of the team is assigned to quickly observe the original structure and then instruct his team members on how to replicate it.
A second team member is then assigned to view and describe the original structure to the team. This teaches each member to describe and listen to details and put them into place.
Guiding Each Other
The Mine Field game is useful for teaching listening skills among your staff.
Create a "mine field" in your space using common items. Then, blindfold one member of each group. It is that person's job to walk across the space without making contact with any of the items scattered about.
The other team members must verbally guide this person through the area until she reaches the other side.
Benefits of Using Games
The following are just a few of the benefits that games like these bring to the workplace:
Enhance team-building
Improve the ability to solve problems
Strengthen communication skills
Encourage individual skills and talents
Increase positivity between employees
Using these and other games is a great way to increase the productivity of your staff. Start with these simple games and feel free to create your own versions to suit your organization. You'll be taking a big step in improving efficiency and creativity among your entire team.
Many learning management systems now offer gamification tools in order to engage employees.
---
One response to "Games That Can Increase The Productivity Of Your Staff"