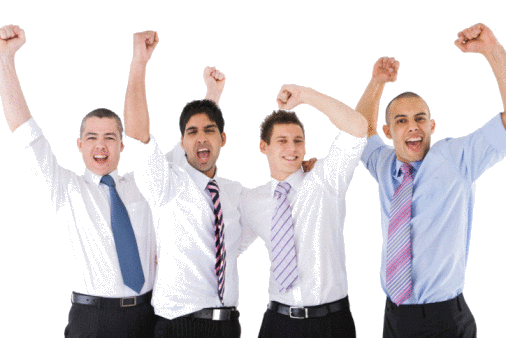 10 Quotes on Teamwork and Collaboration
Teamwork and collaboration is the cornerstone of any organization's success. Training employees in an online training software, achieving goals for the company or staying one step ahead of competitors are all impossible without your staff and management team working together efficiently and effectively. Collaboration fosters a culture of inclusion, success and positivity. Solid teamwork and collaborations can move mountains, accomplish the impossible and provide shelter in a storm. As the old saying goes, a chain is only as strong as its weakest link. The question we need to keep asking ourselves is how we make those fragile links stronger and more resilient. But don't take it from me; take it from the experts.
The following ten quotes remind us just how important building a collaborative, team-focused workplace truly is.
1 – "Competition has been shown to be useful up to a certain point and no further, but cooperation, which is the thing we must strive for today, begins where competition leaves off." – Franklin D. Roosevelt
2 – "Teamwork is the ability to work together toward a common vision: The ability to direct individual accomplishments toward organizational objectives. It is the fuel that allows common people to attain uncommon results." – Andrew Carnegie
3 – "If two men on the same job agree all the time, then one is useless. If they disagree all the time, both are useless." – Darryl F. Zanuck
4 – "It's as simple as this. When people don't unload their opinions and feel like they've been listened to, they won't really get on board." – Patrick Lencioni
5 – "…there are persons who seem to have overcome obstacles and by character and perseverance to have risen to the top. But we have no record of the numbers of able persons who fall by the wayside, persons who, with enough encouragement and opportunity, might make great contributions." –  Mary Barnett Gilson
6 – "Remember upon the conduct of each depends the fate of all." – Alexander the Great
7 – "Never doubt that a small group of thoughtful, committed people can change the world.  Indeed, it is the only thing that ever has." – Margaret Meade


8- "If you want to build a ship, don't drum up people together to collect wood and don't assign them tasks and work, but rather teach them to long for the endless immensity of the sea." – Antoine de Saint-Exupery
9 – "Teamwork is neither good nor desirable. It is a fact. Wherever people work together or play together they do so as a team. Which team to use for what purpose is a crucial, difficult and risky decision that is even harder to unmake. Managements have yet to learn how to make it." – Peter F. Drucker 
10 – "Here at the frontier there are falling leaves. Although my neighbours are all barbarians, and you, you are a thousand miles away, there are always two cups at my table." – T'ang Dynasty Poem
With so many people across history highlighting the importance of teamwork and collaboration, it's no wonder it still forms the basis for the most successful organizations in any industry. If someone asked you to describe the importance of collaboration and teamwork, how would you phrase your response?
---