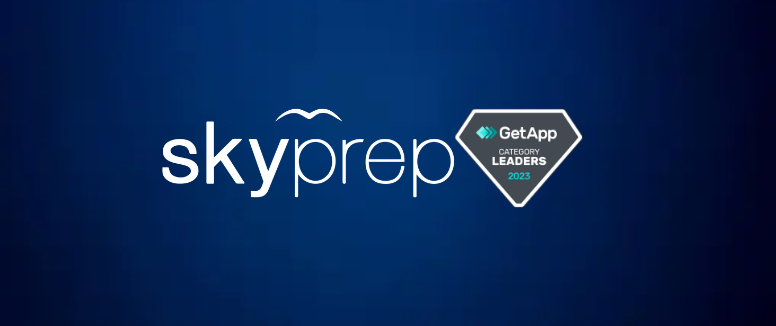 SkyPrep Recognized by GetApp For Exceptional Performance in eLearning Authoring Category
We are thrilled to announce that we have been recognized as Category Leaders by GetApp, a free online service that helps organizations find the right software, in multiple software categories, including eLearning Authoring.
Category Leaders rankings highlight top-ranked North American software products based on ratings from end-users in five key areas: ease of use, value for money, functionality, customer support, and likelihood to recommend. The research methodology is available here.
Have a look at the other recognitions in which we have been placed as Category Leaders in a span of one year:
GetApp's recognition of our software in the software category is a significant achievement for us. It is a testament to our commitment to providing a high-quality solution that meets the need of businesses across a wide range of industries. It also serves as a valuable endorsement for businesses looking for effective software solutions.
We have always strived to achieve higher customer satisfaction, which is why SkyPrep has been a top-rated product on GetApp, with an overall rating of 4.8. Our users have made it possible! Check out our average scoring in the eLearning Authoring category of 224 products- 
Our users have made it possible! Check out what they have to say about us:
"SkyPrep is a great LMS platform, and the team there is amazing to work with. They say they are the "LMS without the Mess", and this is completely accurate!
We have received nothing but positive feedback from our team members using SkyPrep. As an administrator, I can say that I have never received any help requests from any of my team members, which is a sign of how uncomplicated the system is to use." –Chris S.
"I really do love the functions that we now have in the premium version of SkyPrep. We're able to incorporate a whole bunch of training elements such as knowledge checks and assessments. We also really enjoy the permissions and roles function which allows more than 1 admin to upload material and grade material." –Carlos C.
"I find it to be very user-friendly and love the fact that my trainees can follow along on their own PC rather than me having to share my screen and then follow along that way" –Marla P.
Want to review SkyPrep on GetApp? Click here.
About SkyPrep
SkyPrep LMS is an award-winning, intuitive industry leader. It enables you to deliver effective internal training, onboarding, compliance training, and more to your employees, partners, and customers. Utilized by over 500 organizations in various industries globally, it is a true testament to our user-friendly interface, simple yet innovative features, affordable pricing, and exceptional customer support. We are committed to providing the best online training platform solutions in the market, and take pride in helping empower your employees with the knowledge and skills they need to continue making your organization a success.  
About GetApp
GetApp is the recommendation engine SMBs need to make the right software choice. GetApp enables SMBs to achieve their mission by delivering the tailored, data-driven recommendations and insights needed to make informed software purchasing decisions. GetApp is a Gartner company. For more information, visit www.getapp.com
---