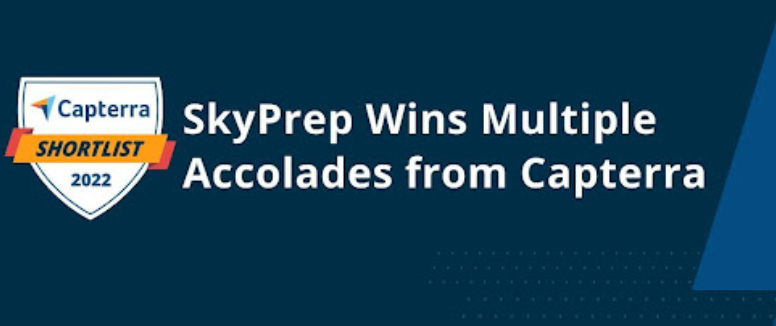 SkyPrep Wins Multiple Accolades from Capterra
SkyPrep is proud to announce its multiple award-winning streak in 2022 by Capterra, a free online service that helps organizations find the right software. SkyPrep is recognized in Capterra Shortlists in multiple categories in 2022.
Capterra Shortlist is an independent assessment that evaluates user reviews and online search activity to generate a list of market leaders in the software space that offer the most popular solutions. (Have a look at the Capterra Shortlist methodology here.)
Have a look at our recognitions:
Emerging Favorite
Established Player
Noteworthy Product
Our users have made it possible! With an overall rating of 4.7 out of 5, we received some stellar reviews on Capterra:
"SkyPrep is an amazing learning platform that allows me to onboard new users, track compliance of all users, enroll and unenroll users in courses, grade assessments, and much more. I really enjoy using this intuitive software on a daily basis."- Bria G.
"I love the structure of this software. We were able to implement a new LMS system in less than 60 days and that would not be possible without this service."- Markus H.
"10/10 would recommend it to anyone and I love showing off the platform that we have created for our part-time and full-time staff to utilize."- Caitlin B.
Want to share what you like about our product? Add your review here.
About SkyPrep
SkyPrep LMS is an award-winning, intuitive industry leader. It enables you to deliver effective internal training, onboarding, compliance training, and more to your employees, partners, and customers. Utilized by over 500 organizations in various industries globally, it is a true testament to our user-friendly interface, simple yet innovative features, affordable pricing, and exceptional customer support. We are committed to providing the best online training platform solutions in the market, and take pride in helping empower your employees with the knowledge and skills they need to continue making your organization a success.
About Capterra
Capterra is a software reviews and selection platform that connects businesses to the right technology. Compare software, read and leave reviews, and access objective insights that empower business growth.
---