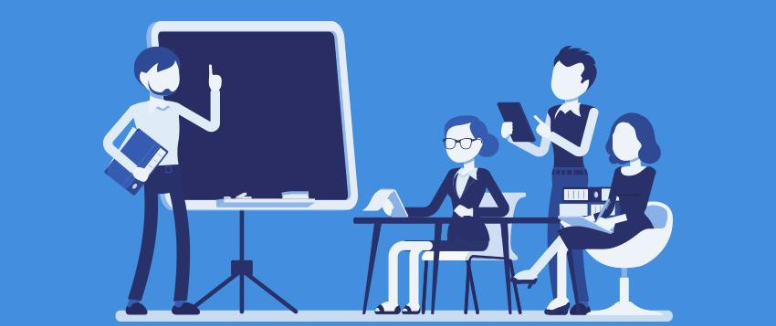 Part 1: 4 Types of Employee Training Programs
Having a well-structured employee training program is essential for any company, whether they have just hired new employees, launched a new product, or simply want to ensure safety measures. Employee training not only allows employees to carry out their duties effectively, but also benefits both employer and employee. In essence, employee training and development is an investment for companies to make, as it ensures its costs will be recouped later on.
What Organizations Gain From Employee Training:
Increased Productivity: Training can help employees learn new skills and improve existing ones, leading to faster, more efficient work processes and better task completion.
Quality Improvement: By providing employees with high-quality training, organizations ensure that they have the skills and knowledge needed to provide quality services or products that meet company standards.
Reducing Turnover: With ongoing training and development opportunities, employees stay current on their skills and feel more valued. This increases employee satisfaction and loyalty, and decreases turnover.
Compliance: Certain courses, such as those for safety and legal compliance, are necessary for employees to understand their obligations and to protect the organization.
Competitive Advantage: Training motivates employees to stay ahead of the latest trends and industry developments, giving the organization a competitive edge.
Increased Profits and Business Development: Employees who are well-trained in the latest breakthroughs and techniques can help generate new business opportunities for the organization and increase profits. Training can also be used to create a culture of innovation, leadership, and collaboration among employees. This leads to better teamwork, improved customer service, and improved operational efficiency – all of which help to generate more revenue.
What Employees Gain From Employee Training:
Increased Job Satisfaction: Training can provide employees with the tools they need to perform more effectively. This feeling of mastery and accomplishment leads to improved job satisfaction.
Greater Efficiency: Training allows employees to become expert in their jobs, leading to improved efficiency and productivity. This in turn increases profitability for the organization.
Enhanced Job Skills: Training provides employees with the skills and knowledge they need to move up within the organization.
Improved Problem Solving and Conflict Resolution: Training can provide valuable insight into understanding issues and how to resolve them. This can help create a positive working environment and foster teamwork.
Increased Confidence and Self-Esteem: Giving employees the knowledge and tools to perform their jobs to the best of their ability can give them a real boost to their self-esteem.
Career Advancement Opportunities: Training can give employees additional skills that can open up career advancement opportunities.
4 Types of Employee Training Programs
1. Orientation Training
Orientation training is an onboarding program put in place to induct and familiarize new employees with their workplace environment, job roles, company policies, and processes. The aim of orientation training is to ensure that new starters become productive employees within the shortest period of time. During an orientation program, new hires learn about the company, its culture, its mission and vision, and the ways they can collaborate with colleagues and clients.
The organization's HR department typically oversees orientation sessions and concentrates on topics such as:
The company's values and objectives
The organizational culture
Introductions to the leadership team
Completing new hire forms
Administrative processes (e.g. computer logins and email accounts setup)
Key corporate rules
2. Compliance Training
Compliance training is training provided to employees to ensure that they understand and are familiar with the organization's policies, procedures, and regulations related to their job duties. Compliance training helps employees understand the rules to help prevent any negative behaviour or legal repercussions for the organization. Compliance training may include topics such as workplace safety, sexual harassment, data protection, workplace diversity, and legal and ethical considerations specific to the organization's industry or sector.
8 Examples of Compliance Training
Anti-Discrimination: Teaching employees about what qualifies as discrimination in the workplace and how to prevent it.
Privacy and Data Protection: Training staff on best practices for keeping client information secure.
Harassment Prevention: Teaching staff about what constitutes harassment and how to recognize and stop it.
Ethics and Compliance: Explaining workplace policies and the legal ramifications of violating them.
Anti-Bribery: Teaching employees the signs of bribery and how to identify it and respond appropriately.
Risk Management: Teaching employees how to minimize the risk of mistakes and comply with regulations.
Health and Safety: Teaching staff about how to remain safe in the workplace and comply with safety standards.
Documentation and Record-keeping: Teaching staff best practices for keeping accurate records and documenting activities.
3. Onboarding Training
Employee onboarding training is the process of familiarizing new employees with the organizational processes, tools, company culture, and job responsibilities. It is designed to make the transition of a new employee smoother and help them adjust and become productive team members as soon as possible. Onboarding training typically includes both formal and informal processes. Informal onboarding activities can include things like team building activities, one-on-one mentoring, and participating in organizational activities and events. Formal onboarding activities can include activities like training on company policies and procedures, job description training, expectations and goal setting, and other technical training.
Benefits of Onboarding Training
Employees can maintain enthusiasm and accomplish tasks efficiently via various methods.
Onboarding includes becoming familiar with the workplace and its staff members.
Through suitable instruction, newcomers are quickly able to understand the expectations and demands of their roles.
Managers have a greater quantity of time available to them due to the comprehensive instructions and resources provided to new employees within their onboarding training programs LMS.
4. Managerial Training
Managerial training is a type of professional education that is designed to teach managers and supervisors the skills they need to be successful in their roles. It focuses on leadership, communication, problem-solving, financial analysis and decision-making. Training topics may include organizational structure, methods for evaluating performance, conflict resolution, performance feedback and team building. The goal of managerial training should be for employees to gain the confidence to manage and lead their teams, as well as their own development as a professional. Managerial training is intended to improve productivity, morale and organizational effectiveness. Additionally, this type of training will help employees gain the skills needed for a successful promotion.
Benefits of Managerial Training
Increased Productivity: By equipping managers with the skills and knowledge they need, it stands to reason that their productivity and output should increase significantly. This, in turn, should benefit the organization in terms of improved ROI, reduced costs and higher profits.
Improved Morale: Employee training and development programs typically help improve staff morale. Managers can gain a better understanding of how to motivate and inspire their team, while their knowledge and skill sets are recognized and respected by their subordinates.
Improved Decision Making: Training will equip managers with the knowledge and strategies needed to make better informed decisions and judgements in their line of work. This increased decision making competency can empower managers to quickly solve problems and respond to challenges.
Improved Teamwork: Managerial training can go a long way towards strengthening the team dynamic in any organization. Managers become better equipped to properly delegate tasks, solve conflicts and create an environment of collaboration and cooperation.
Employee training programs are essential for any business that seeks to remain competitive and successful. By continually investing in the training and development of their employees, organizations ensure that they have the right skills and knowledge to continue to succeed in today's ever-changing business environment.
Be on the lookout for Part 2, where we will continue to take a look at five more types of employee training programs that can benefit your organization.
---