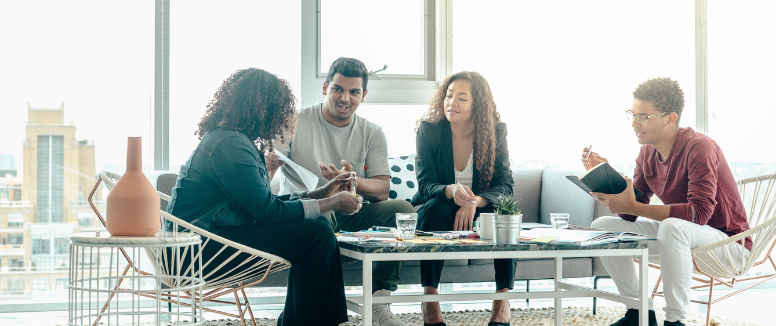 5 Helpful Tips to Drive Employee Engagement
Your LMS is the central unit that ties together the delivery and tracking of your eLearning programs. Within your LMS you can plan, implement and assess specific learning paths. Employee engagement is an integral part of any online training program, and is a metric that should never be overlooked. If online learning is present in your employee training process, we want to share some useful tips that will help your organization increase its employee engagement rate within your eLearning courses.
1. Learning Personalization
Your employees are a diverse group of individuals with various preferences and needs. Individuality should always be taken into consideration, creating personalized learning paths tailored towards specific learning needs is a great way to do so. Within your LMS you can organize multimedia content into categories pertaining to your employees specific roles or relevant training requirements. Creating personalized content and learning paths will have a greater appeal to your employees and increase engagement.
2. Social eLearning
A highly effective eLearning strategy is integrating social activities within your online training course. Giving your employees the opportunity to connect with fellow colleagues through chat forums, collaborative activities, sharing reflective answers and having discussions, will really help your employees feel comfortable with getting to know their team. By connecting socially with one another they will gain new perspectives, knowledge and harness the ability to think outside the box. Furthermore, in the era of remote work, social learning is a powerful tool to help employees feel connected and maintain meaningful bonds with their coworkers, even though they may be working from home.
3. Content Variety
To avoid your online courses feeling monotonous and static, curate a mixture of content. For example, instead of having module after module of long readings, mix it up by including informative YouTube videos, podcasts, TED talks, infographics and more. By incorporating different forms of content, you will speak to the diverse learning styles of your employees, give them access to useful resources, while creating an engaging learning journey.
4. Gamification
An excellent method to achieve employee engagement within your LMS is with the use of gamification. Gamification is an eLearning strategy that incorporates video game elements into learning experiences. With video game-like experiences, your learners will receive badges and be able to see themselves and other employees on the scoreboard. Badges will be awarded for high completion scores or top performance in various categories. Gamification creates a sense of excitement and increases the learner's level of motivation, both intrinsic and extrinsic. When your learners are highly engaged this translates to high knowledge retention after the course is completed.
5. Collect and Analyze Feedback
Collect information from your learners such as feedback on the content, requests for what they would like to learn in the future, self-assessments from before and after the course. This information will give you insight into determining if your learners were positively impacted and any improvements you may need to make to best cater to their learning needs in the future.
Creating an eLearning environment that empowers your employees will create a stronger workforce and guarantee your organization's success. If you would like to learn more about creating engaging online learning courses to fit your employees unique needs, request a call and one of our product specialists will assist you shortly.
---