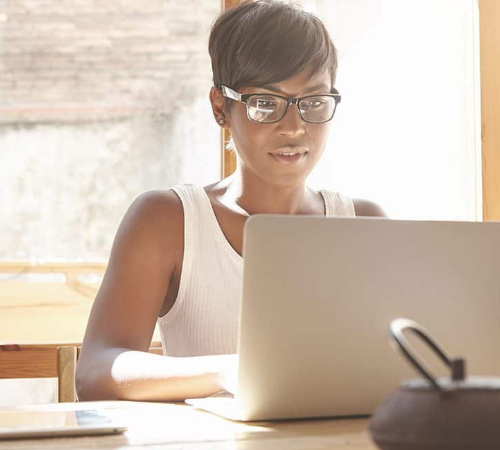 A Guide to Virtual Training and Development
Most organizations have realized the benefits and potential of remote work and in some industries, in-person training is becoming a thing of the past. Virtual training and learning development is easily becoming a necessity. A learning management system (LMS), is a great resource to assist your organization in facilitating virtual training.
An LMS comes with many benefits-from breakout rooms, whiteboard capabilities, to launching polls with real-time results. It offers many features that can keep learners engaged when enrolled in online training sessions. An LMS provides extensive online training libraries for independent or assigned learning. Control lies primarily with the administrator in an LMS.
Administrators can explore the course library or upload custom content and assign it to their online learners. Employees are still able to search for content themselves when needed, but the functionality of an LMS is designed to help you assign, deliver and track online training all within a centralized online hub.
Create Engaging Content to Increase Participation
You want your content to be easily digestible. Whether you are delivering virtual presentations or using off-the-shelf video content, ensure that your online training sessions are engaging your learners and effectively communicating the learning material.
A classic way to increase engagement during online training is by telling stories. Create an outline and then find relatable stories that can be incorporated. Consider how you want your learners to feel about the topic at hand. If it is a more serious topic such as safety or harassment, make sure you reflect that in the presentation. If you are presenting via a virtual classroom, make an effort to not read word for word of the slides.
Try to paraphrase the content and let it flow naturally. This is where a story or example can have an impact. Build-in visual components that can help get your point across, those will go much further than just a wall of text. Also, make sure you are interacting with your learners about every ten minutes or so.
The continuous interaction will allow you to get your learner's attention and interest, and keep it. Microlearning helps with knowledge retention, so keep training videos short. Short and engaging videos will help your online learners remember more. Consider using different variations of videos, for example-animated, presentation style, etc.
It is really important to find facilitators that have a good energy for all types of training, whether it is micro-learning videos or virtual classrooms. Your speakers should be experienced, be able to grab the attention of your learners, speak fluidly and conversationally, and always encourage participation when it is possible.
Your facilitators drive the sessions forward, so they need to be capable of bouncing from sharing content, to answering questions, to launching polls without losing their way. Being able to balance that all naturally, is a skill in itself. Select facilitators with great communication skills, that are patient, energetic, witty, and able to switch gears quickly. 
Maintaining Engagement Throughout
It is very easy to get distracted while working remotely. Maintaining engagement with online learners that are working remotely could be a struggle. What are some tips on keeping interest and engagement in online training?
For virtual classroom sessions, always start on time. Valuing the time of everyone involved will make learners more likely to be engaged in the training sessions. If you wait for everyone to join, rather than starting on time, could potentially make some participants feel irritated, limiting and will lessen their interest. 
No matter what your style is, be sure to ask thought-provoking questions throughout your learning session, to get participants thinking. When learning live, they can engage in conversation. Think of questions that will prompt answers, whether they are fun ice-breaker type questions, or ones that are a bit more complex. Definitely avoid questions that are deep and philosophical-like, stick to ones that allow learners to comfortably share their opinions and experiences.
If participants feel like their opinions matter, engagement is likely to be much higher. A vital step in the online training process is collecting feedback. It will guide you on how to move forward with future training and help you deliver content in a way your employees like and want to see. A great first step in collecting this data is sending out a survey. Once you have collected feedback from the facilitators and participants, take the time to analyze any trends you may see. 
Studies have shown that people forget about 70% of new information within 24 hours-this is known as "The Forgetting Curve". A lot of time and money is invested into training, and that is a large percentage of information to be lost right away.
To keep participants learning after their online learning session is over, provide them with a lesson summary and any Q&A's from the lesson.
Let them know about any additional resources, such as the link to the slide deck, or any recommended outside reading or videos. To help increase information retention, send automated follow-up questions. This is useful for both online courses and virtual classroom training.
As long as your training cohorts are well-planned, engaging and informative, your employees will surely have a positive experience. Employee training in a virtual setting allows for the integration of an intuitive LMS and more tailored content which will help employees develop a variety of skills. 
Integrating a Learning Management Platform
In addition to virtual classroom learning, you can maximize your remote employees' learning and development with the utilization of an online learning platform.
Providing your employees with learning resources that are always accessible will help them to develop and strengthen the necessary skills needed for their roles. They will learn skills and appropriate procedures, all in one space. You can help guide their learning journey by:
Using a curated learning path. You can pre-approve content for employees and present it with the appropriate context.
Assign specific content. Prescribing what you want employees to learn means you get equal training across the board. 
A learning management system will help you facilitate online training goals and make tracking and reporting easily accessible. 
Sign up for a free trial to see why organizations like yours choose SkyPrep for online employee learning.  
---