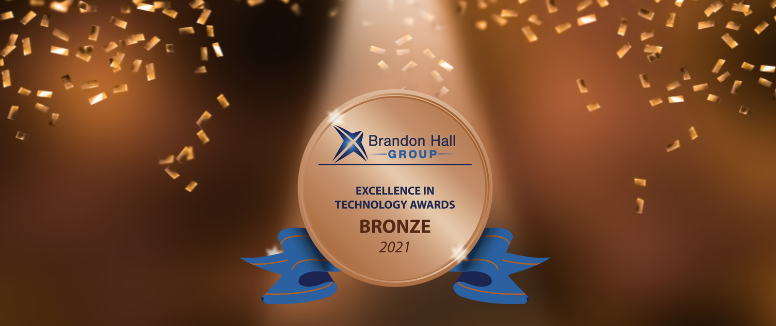 SkyPrep Gets Awarded Bronze Badge at the 2021 Brandon Hall Excellence in Technology Awards
This year SkyPrep is pleased to announce we have won the bronze award in the category of 'Best Advance in Learning Management Technology for Small and Medium-Sized Businesses'. We are incredibly honoured to be recognized by such a prestigious association as Brandon Hall Group.
Our win in 'Best Advance in Learning Management Technology for Small and Medium-Sized Businesses' acknowledges our LMS for it's cutting-edge performance, ease of use and our exceptional customer support.
The category's judging process was based on the following criteria: value proposition, innovation, unique differentiators, technical functionality, and overall measurable results. After rigorous evaluation by industry leaders, we are extremely proud to receive a bronze badge in this category. We look forward to next year's Awards ceremony and to continued success in 2022, with providing innovative learning management solutions to corporations worldwide.
About SkyPrep
SkyPrep LMS is an award-winning, intuitive industry leader. It enables you to deliver effective internal training, onboarding, compliance training, and more to your employees, partners, and customers. Utilized by over 500 organizations in various industries globally, it is a true testament to our user-friendly interface, simple yet innovative features, affordable pricing, and exceptional customer support. We are committed to providing the best online training platform solutions in the market, and take pride in helping empower your employees with the knowledge and skills they need to continue making your organization a success.
Request a demo to take a closer look at SkyPrep and determine how it can help with your online training needs.
---