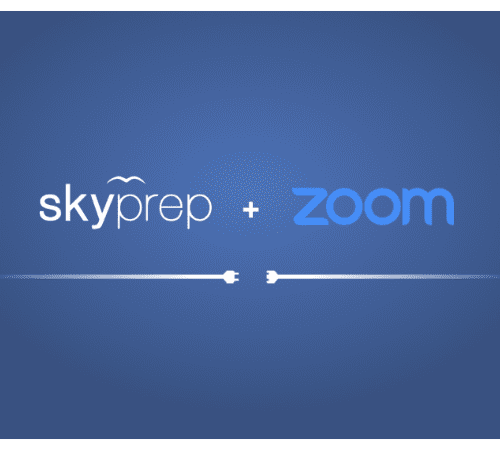 Powerful Zoom Integration for SkyPrep Learning Management System
Training remote employees, customers, and partners has never been easier. SkyPrep's Zoom integration allows you to host video meetings from your learning management system and broadcast them with your team in different locations.
You can create, manage, and deploy Zoom sessions directly from the training software. You can also take advantage of the virtual classroom features to boost learner engagement and increase knowledge retention. All of this can be done within SkyPrep LMS without having to log in to Zoom.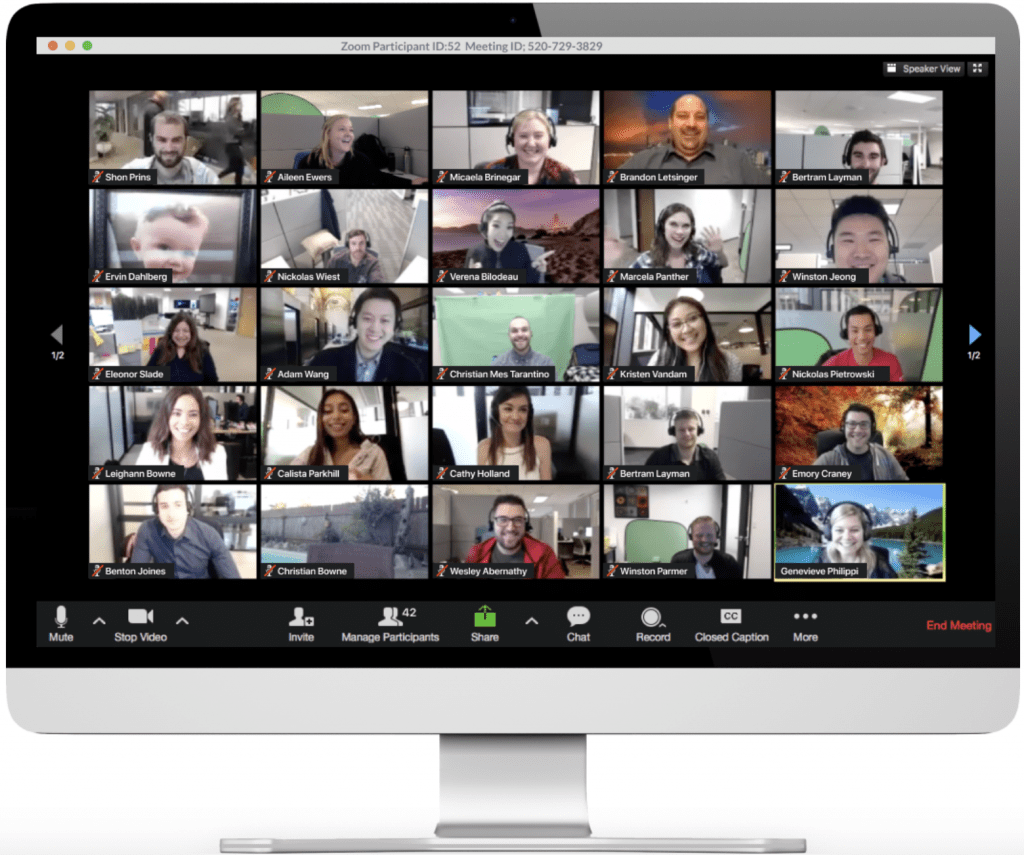 Simple Setup and Administration
It is easy to create and deliver Zoom sessions from within your learning management system, without the need to log in to Zoom's platform. When a course is created, simply click "Add Webinar" to the course, enter the details, and the session will be scheduled instantly.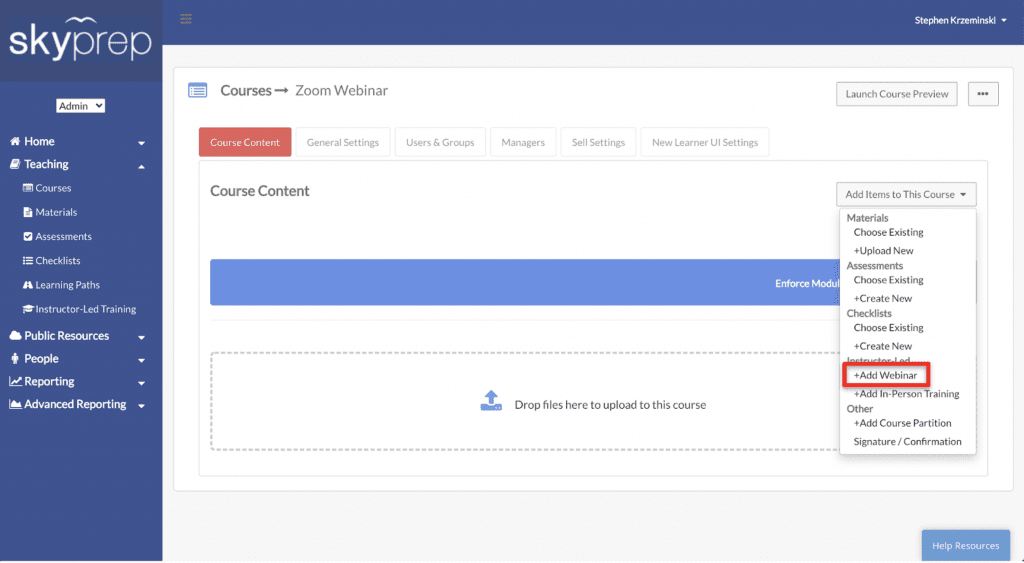 User registration is also a breeze. You can quickly enroll existing learners into webinars or you can allow them to enroll themselves to save you time.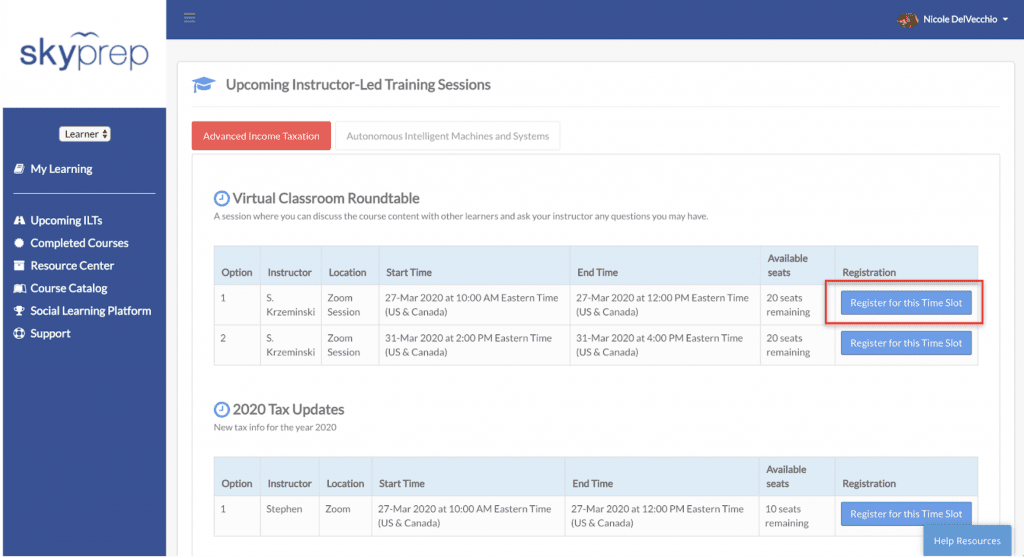 Create an Engaging Learning Experience with Virtual Classroom Features
Make training interactive and keep learners engaged with Zoom's virtual classroom features. Video-conferencing, screen-sharing, and interactive whiteboards make training more enjoyable and engaging, elevating the entire learning experience.
Keep face-to-face interaction in your training with video-conferencing. Video meetings can be held and accessed from any location on your computer or mobile device, making training easily accessible. By maintaining the face-to-face interaction in your training, you will be able to make your training engaging and interactive, even though it's done online in dispersed locations.
Easily share your content and other documents in real-time with your team by sharing the screen of your desktop or mobile device. It is a fast and convenient way to communicate with remote employees when visuals are needed. Whether you are showcasing final design mockups, sketches, and presentations, sharing them to several people at once makes work life easier.
Drive quality discussions and enhance team collaboration through interactive whiteboards. This feature enables you to present your content and provides learners with drawing tools to emphasize their message and sketch ideas. It is a great way to encourage learner participation and get your team's feedback at one time.
Record Meetings for Future Use
You can immediately save your video meetings right after the meeting ends and upload them to SkyPrep's resource center. They will be available for viewing any time, and anywhere for those who missed the session. You can also include them in future training programs such as onboarding or compliance training.
Stay on Top of Attendance
See who attended and who missed your training and schedule these reports to be sent directly to your inbox. You can export these results into Excel and print a copy of them as needed. You will be able to see how your learners are progressing and spot any potential issues.
What You'll Get Out of Using the Zoom Integration
By using Skyrep's Zoom integration and taking advantage of the above features, you will be provided with countless benefits.
Support Face-to-Face Training
Video meetings enable you to maintain that face-to-face interaction, replicating in-person training. Even though training is done online, you will still be able to make your training highly interactive. This will help ensure your sessions are more effective and that your team is properly digesting your content.
It is easy for employees to access both live and recorded training sessions. These sessions can be accessed and launched directly from your LMS without having to log in to Zoom. Your team will be able to access training whenever they need it and get answers to their questions immediately.
When learners are engaged, they will be encouraged to do their best and complete their training. By using virtual classroom features such as whiteboards, screen-sharing, and video conferencing, you will boost team collaboration and training engagement. You can expect to increase course completions as well as knowledge retention as a result.
Simplify Webinar Processes
The entire process of managing webinars and user enrollments is all done in one location, simplifying how you administer your Zoom sessions. Repetitive and tedious tasks are also reduced and automated, helping you to save even more time to focus on other priority work.
To learn more about the SkyPrep+ Zoom integration and how you can start hosting online video meetings, please contact us for a free demo.
---