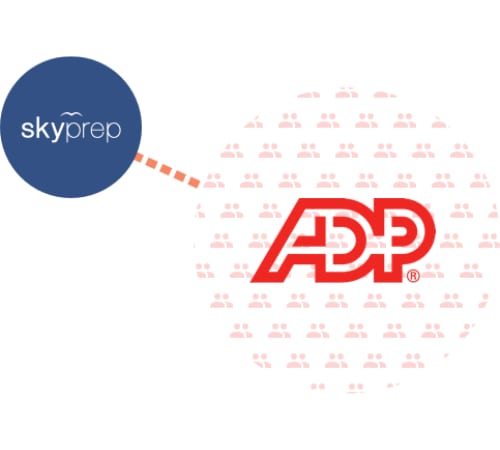 How SkyPrep's ADP Integration Can Streamline Your Online Training
Everyone is busy with their day-to-day work responsibilities. With too much work and too little time, managing an online training program can be a challenge, and it can steer your focus away from other high-priority work. You will be left scrambling, trying to balance your workloads.
A significant time waster is having to manually input employee data into your LMS when you have new hires joining the organization or if there are updates to employee records. It is a tedious, time-consuming process, and there is an increased possibility of human error and inconsistent data as a result.
What if you could connect your HR platform such as ADP to your LMS to minimize the manual effort involved in inputting and managing data in your LMS? This would alleviate the challenge above and save you immeasurable time and effort. 
SkyPrep has recognized this problem and developed an integration with ADP, one of the world's largest Human Capital Management (HCM) systems.
The ADP connector streamlines your training processes by enabling you to connect to SkyPrep, helping you to minimize the administrative tasks that go into managing a training program.
You have various options to automate actions such as creating new user profiles in SkyPrep based on information from ADP or auto-assigning learners to courses, eliminating manual processes, and saving you substantial amounts of time. 
A More Effective Way to Seamlessly Integrate Data
What does this mean for you? The ADP connector will simplify how you manage and deliver training so that you can do more in less time. Let's take a closer look at the benefits you can achieve with this essential integration if you are using ADP:
Assign Learners to Relevant Training
When you have multiple employees and various courses you offer to your workforce, it is a pain to register or assign these courses to your team manually. Even having them register on their own will take time from their day, and you can't guarantee that all of your employees will sign up for them.
With the ADP Connector, you avoid all of this. You can auto-enroll users to courses and learning paths based on their employee properties such as location, department, and title. Hence, you can ensure they are assigned to relevant training with minimal effort. 
Ensure Consistent Information Across Both Systems
Having to maintain employee records in separate applications is a long-winded process. It takes much effort, and you may have inaccuracies when updating information manually in two different systems.
Not to worry, though, the ADP integration automatically pulls data from ADP to SkyPrep, so user profiles are updated instantly with the latest information from ADP. You will be able to minimize manual entry, reduce human error, and ensure your data is consistent across both applications.
Provide Users Quick and Easy Access to Training
Your team is busy with their day to day responsibilities. You want them to be able to focus on their work commitments and complete their training as efficiently as possible. But having to log in each time to access courses or training materials will slow them down. If they were to forget their credentials, they would be spending a lot of wasted time trying to recover forgotten passwords or waiting on IT support to regain access back to their accounts.
The ADP integration offers single sign-on, which prevents users from having to log in every time they need access to their LMS platform. They will be able to access the training and resources they need with ease and not have to go through the hassle of recovering forgotten passwords and locked out accounts. 
Eliminate Duplicate Data Entry
It doesn't make much sense to input the same information twice into two different systems. Duplicate data entry will take your precious time away. The ADP connector solves this challenge by automatically creating user profiles in SkyPrep by pulling data from ADP.
This dramatically reduces the repetitive and manual work involved with creating employee records and saves you a significant amount of time.
Final Thoughts:
Streamline your training processes by seamlessly integrating data from ADP into SkyPrep to save time and enhance the training experience for learners. To learn more about how the ADP Connector can simplify your training, please contact one of our eLeraning specialists today! 
---