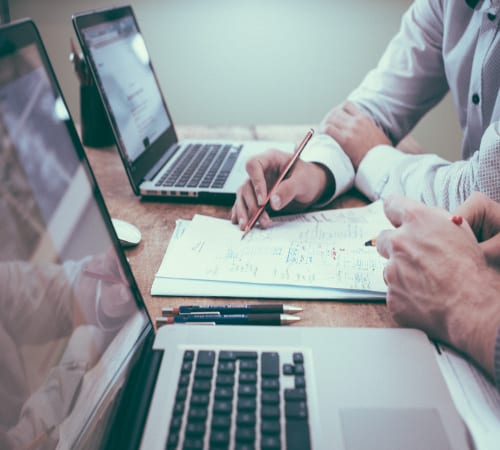 Benefits of Using a Learning Management System for Your Ongoing and Recurring Training
Ongoing and recurring training are vital types of training that contributes to the success of the business. Using both types of training within your organization will ensure your employees are sufficiently trained on company processes and procedures and are compliant with policies and regulations. You run the risk of having poor-performing employees and face liabilities if you do not offer consistent ongoing and recurring training.
A Learning Management System (LMS) provides a comprehensive online platform to manage, deliver, and track ongoing and recurring training programs in a consistent and well-structured way. In this blog, we'll go into more detail into what ongoing and recurring training is and how an LMS can support both types of training to enable you to provide proper training for your learners and help them to be best-in-class employees.
The Differences Between Ongoing and Recurring Training
Ongoing and recurring training is often confused for being the same thing when there are significant differences between the two. We'll distinguish the two below and highlight the benefits of using them.
Ongoing Training
Ongoing training is continuous training that is delivered over the course of an employee's time with a company that relates to their role. It includes training from technological updates, organizational restructuring, process modifications, and new product introductions.

If an organization implements new machinery, they would need to provide training for machine operators on how to operate it so they can correctly follow procedures and use it efficiently. Another example is when a software company introduces a new product or feature, they would need to provide training for their sales and customer success team on what it is, the benefits of it, and how it is used. This will help sales and customer success reps to better sell the product and encourage their customers to use it.
Recurring Training
Recurring training is training that occurs over and over again on a consistent basis, such as monthly or annually. Compliance training is a common example that falls under this category.  
In the healthcare industry, for example, the Health Insurance Portability and Accountability Act, also known as HIPAA, is a legislation in the US that provides data privacy and security provisions for protecting medical information. A hospital or health system can determine that their medical team needs to take the HIPAA compliance training course annually to ensure protocols are followed correctly. Or in aviation, annual airframe maintenance training needs to be done yearly to ensure aviation mechanics are consistently updated and trained on maintenance processes to minimize the risk of aircraft incidents.
What Can You Accomplish With Both Types of Training?
Employing ongoing and recurring training in your organization will help to make sure your workforce is appropriately trained on processes and procedures, as well as policies and regulations, so your business can operate like a well-oiled machine.
Improve Employee Productivity
Providing consistent and frequent training for your employees will minimize knowledge gaps and raise their competency standards higher, so they can work more efficiently.
Boost Morale and Motivate Employees
Empowering your workforce with adequate training to develop new skills to help them succeed in their roles will boost morale and help them feel they are making a positive impact on the organization. Employees who do not have the proper training and support will not be happy and are at a higher risk of leaving the company.
In addition, a more skilled internal workforce means you can nominate them for new positions that become available. Providing growth opportunities for your team will help further motivate and encourage them to do the best job possible.
Keep Your Workforce Compliant
Delivering recurring training on policies, procedures, and regulations will help to ensure your workforce completes their required compliance training on-time to minimize risks and liabilities.
How an LMS Facilitates Ongoing and Recurring Training?
An LMS can significantly help organizations to develop and deliver a well structured and effective training program. We'll take a look at some of the key features that can assist with the management and delivery of ongoing and recurring training programs:
Auto-Enroll Learners into Courses
With an LMS, you can auto-enroll users to a course based on their user property, such as completion status, title or department, location, training deadlines, and certificate expiration dates.
If you have a compliance course such as HIPAA that needs to be taken every year as discussed earlier, you can automatically re-enroll your learners to the course before the expiration date. You can also determine how many days in advance they are to be registered before the deadline to ensure they have sufficient time to complete it before the due date.
By doing this, you will reduce your manual work and at the same time ensure your employees are enrolled into their mandatory training.
Send Automated Reminder Alerts
An LMS enables you to schedule automated email alerts to learners who did not start or failed a course, or those who have training that is about to expire.
For learners that have a compliance course that is due to be completed in a week, you can send out automated emails to remind learners who are currently in progress or did not start it so that they can go through it before the deadline.
Another example is if you have new machinery for employees to use, you can send out reminders to encourage staff to complete training quickly so they can start to work on it as soon as possible.
Organize Multiple Courses Through Learning paths
If you have multiple courses on a particular topic or program, you can group them into a Learning Path with an LMS. Using learning paths will add more structure to your training programs and make it easier for learners to stay on top of their courses.
For example, if you have multiple HR training learners who need to undergo such as Code of Ethics, Sexual Harassment, and Health and Safety, you can group these classes into one program and assign them instantly to your employees. You also have the option of enabling course sequence, so learners are required to complete a course before moving on to the next one.
Generate Data-Driven Insights
You can easily keep track of learner progress and course performance through LMS reporting capabilities. Build custom reports or use pre-built reports to obtain data on KPIs and have it automatically sent directly to your inbox or sent to your team to keep everyone informed at their fingertips.
Reporting will help you to stay on top of your employee training status. For example, you can swiftly see who completed their compliance training and who didn't when the training deadline is approaching. Or see who finished training on machine operating procedures and are now able to work on the new device to reduce downtime.
Provide Additional Resources and Support
In addition to having your courses available anywhere at anytime online, you can centralize other training materials such as product guides, how-to videos, notes, videos, and presentation slides in a single location. This will help supplement learning and offer additional support if users get stuck on a topic.
You can also auto-assign employees to additional courses or learning paths after they completed training to encourage them to continue their learning on a particular topic.
Final Thoughts:
Ongoing and recurring training is something you need to get right to produce efficient and knowledgeable employees. If you do not have an adequate system to support it, it will be a challenge to manage it. An LMS will simplify how you manage, track, and deliver ongoing and recurring training, resulting in high-value learning and development for your workforce.
Request a free trial or demo of SkyPrep to see how it can help you to deliver best-in-class ongoing and recurring training for your employees.
---