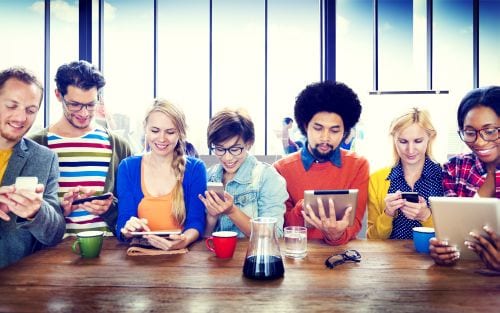 5 Productivity Apps That Make Team Members More Productive
One of the biggest time-wasters for any team is a task that they do only rarely. When it crops up with an urgent tag attached to it, they are ill-prepared to handle it quickly as part of their efficient routine.
Ensuring that your team has apps that cover most tasks is one way to make them more productive regardless of what is thrown at them.
For example, to move a contract forward, the team leader at a remote location suddenly has to view and sign a PDF. He or she has no printer and no fax. How do you handle that efficiently?
Download the app Adobe Acrobat Reader. Compatible with both Android and iOS devices, it allows you to open a PDF from email, the web or any other app that supports sharing. The team member can then fill out the PDF form by typing text into the fields and using their finger, they can sign the document. Problem solved quickly and easily.
In another instance, they may be receiving fairly technical or complicated verbal instructions about a project and they are not in a position to be taking notes.
By downloading the Just Press Record app, costing you $4.99, which is compatible with iOS devices, it allows the team member to record the instructions with just one tap.
A great feature of this app is that it has built-in transcription features that allows for note-taking. If several presentations need to be recorded, the app sorts them by date and time, and they can be manually renamed later to something the team member will remember.
If you use this app a lot and have several recordings, they are searchable using certain terms. The recordings and the transcriptions of the recordings can also be stored in the cloud.
You want your team members to stay aware of news in their industry and better ways to do things, but taking the time to read a White Paper when they have deadlines looming isn't a good choice of time.
The free Pocket app allows you to put the digital file in a digital "pocket."
You may have used the Read It Later service at one point in your career. This is the new re-branded version. Then, when you have the time and want to fill it productively, you can awaken this reading tool online and enjoy the articles and videos you saved.
There are lots of organizers for team members who must keep track of many projects simultaneously, but one of the most versatile is Trello, which is free and compatible with Android and iOS.
It can be customized to almost any situation and any industry. You just set up a digital bulletin board for your lists, notes, tasks and other categories and fill your virtual space with "cards." The great thing about this app is that the cards can be easily rearranged by dragging and dropping up and down the list, or from one list to the other.
You can share the app with other team members working on the same projects and they can also add new cards and comments. It is one of the most versatile system available.
A fifth choice to consider is the free app Accompany, which is compatible with iPhones. It is a great way to do meeting preparation effectively. It becomes a virtual executive assistant, gathering profiles on people and companies you will be meeting with and allows you to glimpse at it quickly in the few minutes before the meeting.
It will even source new stories about the people or companies you are meeting and what they are posting on social media.
With this app, there is no need to ever attend a meeting unprepared again.
---