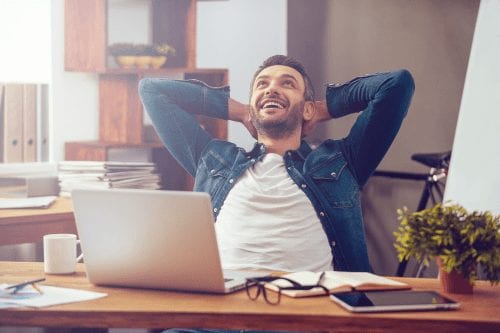 Employees Taking Charge of Their Own Learning Opportunities
While your company is mired in discussions about whether mobile learning, eLearning or classroom seminars works best to train employees, which one is less expensive to offer, and how to calculate return on investment (ROI) for employee development, most of your workers are circumventing you and going out and learning what they feel to know.
Today's engaged employee likely came into your organization with a personal learning network (PLN) and they will continue to use it regardless of what else is offered to grow their skillset and knowledge base.
In today's digital age, the reality is that anyone with an Internet connection can create their own PLN and dive into a global, online classroom of their own making.
They can attack their learning challenges in two ways.
Either they can learn all about one topic from a huge variety of reputable sources, or they can tap into a stream of learning from others within their industry.
Essentially, they can learn on demand, and slowly but surely, the relevancy of PLNs could edge out the importance of your training programs as a primary source of learning about your job and your industry.
Will Richardson and Rob Manacabelli, in their provocative book Personal Learning Networks: Using the Power of Connections to Transform Education, predict that PLNs will actually need to be embraced within a child's formal education system in the future. Educators can either accept their reality and work to use them better, or be blind to them and miss great opportunities to teach students.
The authors cite a number of scientific studies to make their point that personal learning networks will empower individuals in the future and encourage them to perform better and achieve more.
Taking the author's point about the school system and gently layering it over the average workplace, it is clear that digitally-enhanced learning is accelerating at a much faster speed than traditional training programs are being developed.
Today's worker is used to learning what they want to know when they want to know it with the flick of a keyboard, not waiting for six weeks to have a seminar that covers the topic that now perplexes them.
Richard and Manacabelli describe personal learning networks essentially as a set of connections each person makes to people both online and offline who are able to foster their learning efforts. The era of the self-made education looms.
The trend coincides with an already noted explosion of learning taking place informally outside of the workplace. Employees in their off hours are engaging in online conversation with specialists in their industry, opting to take courses on skills they believe would help their development, and in the process, getting increasingly frustrated with the slow pace of formal traditional training.
How can human resources professionals in charge of employee training use their trend to bring employees closer to what the company wants them to learn?
Start by acknowledging that creating a PLN is quite difficult. It takes time and energy and passion to keep seeking out relevant and reliable sources when you are trying to build your own learning system.
Acknowledging that your employees are engaged in their own learning process, and enhance it by guiding them to great sites and thoughtful industry leaders. Suggest blogs to follow, videos to watch, and LinkedIn groups to join. Ask employees if they will share their great learning finds with others. Using tools such as BoostHQ, allows employees to easily share findings and fosters discussions.
Foster a culture of shared learning opportunities and stress quality over quantity when it comes to creating great connections.
It will benefit your corporation or organization if your employees are creating their own global classrooms and reliable data on subjects they are keen to know more about.
As human beings, we are born with a natural urge to learn non-stop. The growth of personal learning networks in this digital age is a manifestation of that, and needs to be nurtured more than challenged or replaced by dogmatically clinging to past learning styles.
---