Track the Skills of Your Team With SkyPrep's New Performance Tracking Feature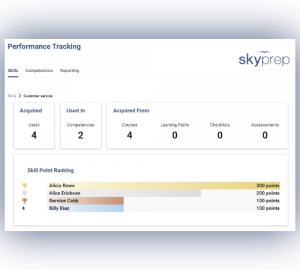 SkyPrep's new Performance Tracking feature makes it easier than ever to track the skill set of your employees and identify knowledge gaps within your organization. The new feature lets you create the core skills and competencies that are vital to the success of your business. You can determine the skill points learners can earn and the skills needed to unlock competencies. As learners go through the training program, you can generate reports on their progress to gain visibility into their qualifications ensuring their skill set aligns with your business goals. 
Keep on reading to learn more about the Performance Tracking feature and how it can help grow your team's expertise to take your business to the next level.
What Can You Do With the New Feature?
Define Your Organization's Core Competencies
Every business is different, the roles and goals are unique to your organization. The Performance Tracking feature lets you create the skills and competencies that are specific to your business needs.
Easily create skills, choose which training items to add them to such as courses and assessments, then set the points learners can earn by completing them. When creating competencies, select the skills and amount of points required to unlock them. Once you've added all of these to SkyPrep, you will have all the vital qualifications your business requires in one convenient spot.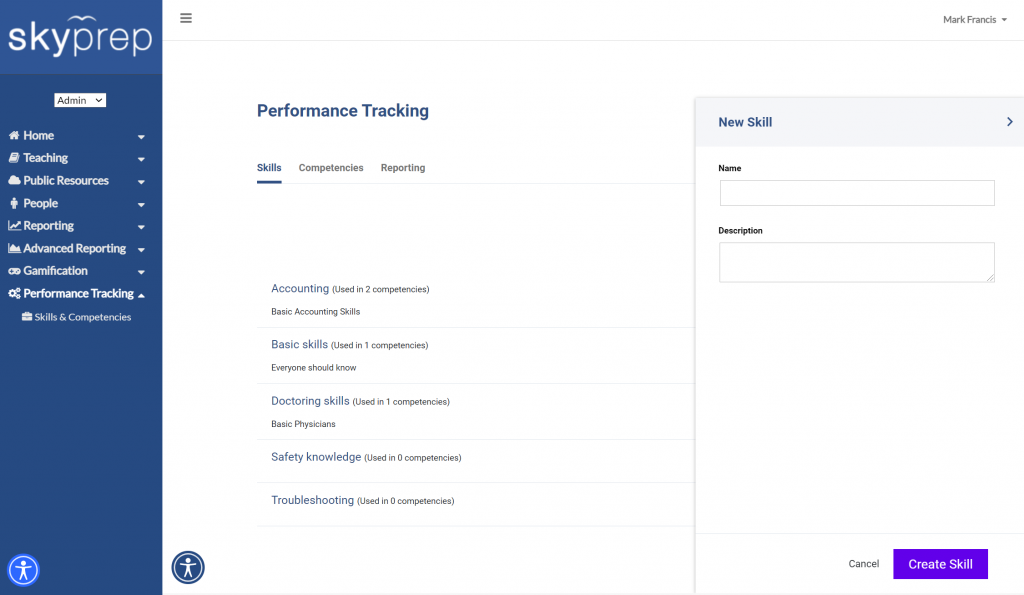 Award Skills and Competencies to Bring Out the Best In Your Employees
Invest in your most valuable asset, your employees. Promote employee growth and expand their expertise by providing them with the opportunity to earn new skills and achieve competencies. Assign skill points to training activities such as courses, learning paths, assessments, and checklists that can be earned to reach different skill levels. For learners to unlock a competency, select what skills are required and how many points are needed for each to achieve it.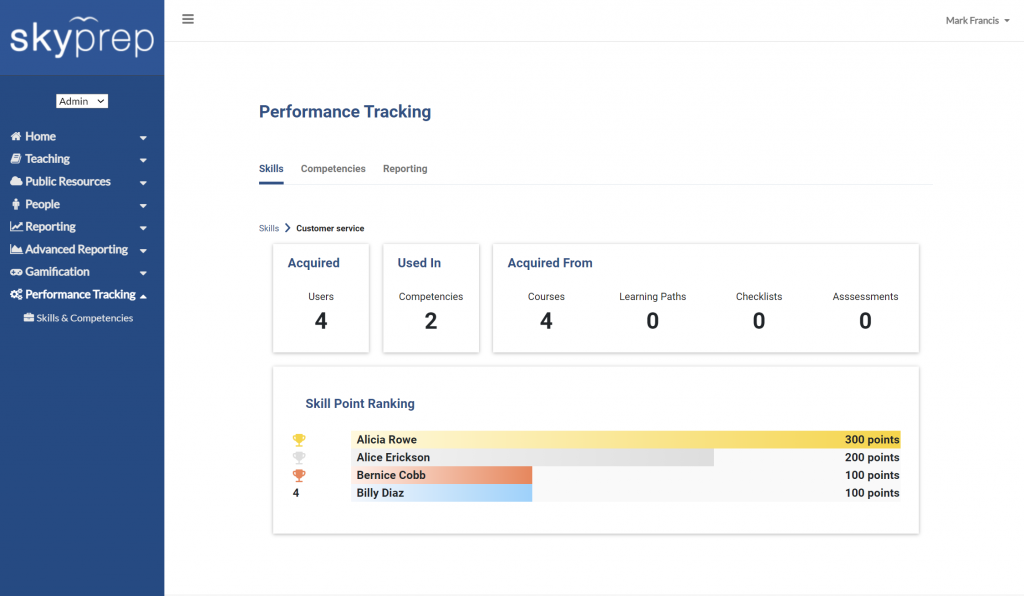 Evaluate Your Team's Qualifications and Identify Skill Gaps
Being able to view your workforce's qualifications will help you create a productive workforce and ensure your team is aligned with what your organization wants to accomplish. This is no easy feat without investing in new software but SkyPrep enables you to do this directly in the platform effortlessly. Different views and reporting capabilities allow you to have a clear visual of the state of your workforce. You can view how many skill points your learners have, what skill level they are at, what competencies they have acquired, who hasn't completed their training, and overall if there are any skill gaps that can potentially slow your business down. You will have the actionable insights you need to address skill gaps and to establish a knowledgeable workforce so your business can perform at its best.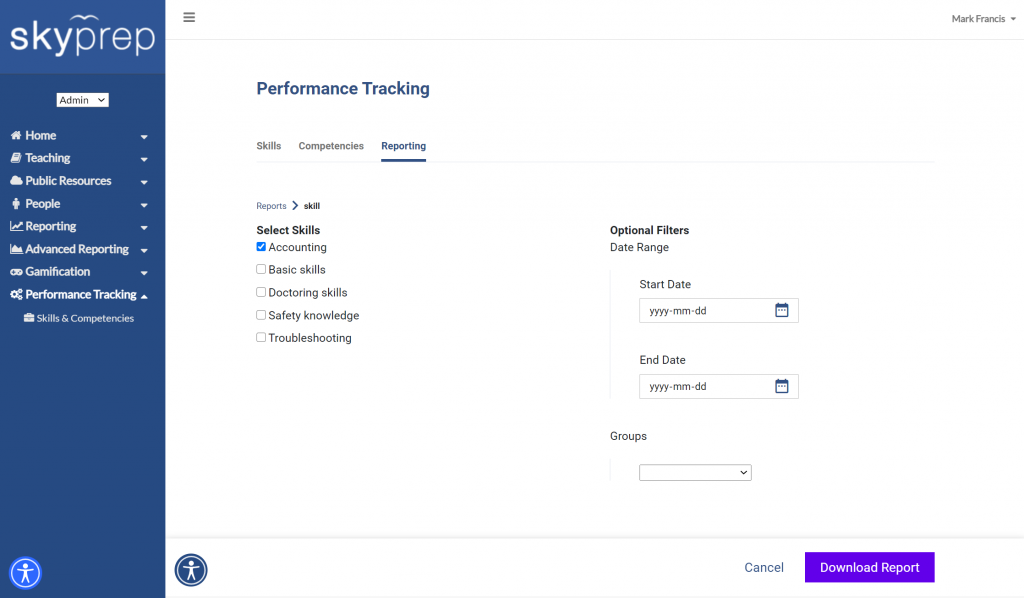 It's Built-In for a Polished Experience
The great thing about SkyPrep's Performance Tracking feature is that it's entirely homegrown and built directly inside the training platform. You don't need third-party plugins or software to connect to, everything is done right in SkyPrep for a cost-effective, smooth, and effortless experience.
To learn how you can incorporate the performance tracking feature into your corporate training, request a demo today!
---
Improve Your Online Training Today With SkyPrep!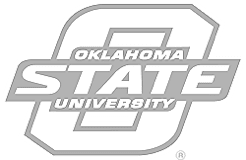 SkyPrep Inc. provides integrated corporate e-learning solutions to help top companies facilitate online training and knowledge sharing in their organizations.
hello@skyprep.com
1-855-SKY-PREP
1-855-759-7737
550 Queen Street East, Suite 335
Toronto, Ontario
M5A 1V2
Products
Resources
Solutions
About SkyPrep
Support