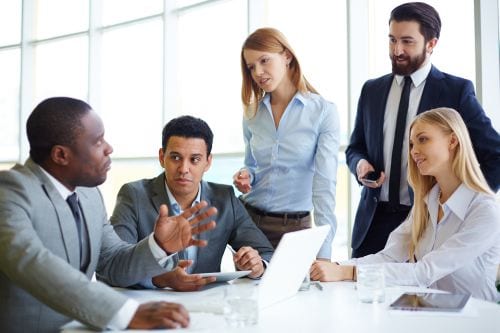 When Outsourcing Compliance Makes Sense For Many HR Pros.
No matter what the nature of your small or mid-sized business is, you must comply with a large number of government laws and regulations.
Ignorance of the law, no matter how obscure it might seem to you, is no excuse if you fail to adhere to it.
For human resources professionals, the challenge of staying abreast of these vast and frequently changing regulations is daunting.
Yet the price of ignoring them is steep. According to Jury Verdict Research, the number of employment lawsuits filed in the last two decades has increased by a dramatic 400 percent. Companies who are found guilty of failing to comply with certain regulations are finding no mercy in courts. In fact, compensatory rewards in federal government cases now exceed $490,000 on average.
Ignorance is so costly that more and more human resources departments are seeking to outsource compliance issues to third parties who specialize in employment law.
A 2011 survey by the ADP Research Institute revealed that there are six key areas of compliance that are most troubling for human resources departments.
These include payroll, hiring, benefits, employee relations, risk, and safety.
The problem of compliance issues seem worse in recent years largely because the number of federal and state regulations that govern how employees must be treated in companies of all sizes has increased. It is not sufficient just to know when to pay overtime or not to discriminate in selecting candidates for promotions. Now an extensive list of safety regulations, rules for handling benefit packages, and even treatments of employees who become ill means you must ensure every transaction takes place entirely by the book. There is no room for assumption, no acknowledgement of what business owners often refer to as common sense.
In many cases, companies unknowingly run afoul of the law not through ill intent, but lack of clarity on a particular regulation.
The bottom line is that HR departments have essentially two choices.
The first is that they dedicate a staff human resources professional to dedicate themselves totally to compliance issues and to monitor all transactions involving employees, from hiring interviews to exit interviews and all points in between. That can be tremendously time-consuming and costly, and if that person leaves, the company is back to square one. 
Or they can outsource compliance issues to companies whose primary business is to stay on top of HR issues and regulations and ensure that the business implements best practices in relation to new and existing compliance issues that impact them. 
Often the latter makes good financial sense. Having a third party to call for counsel when issues arise is a tremendous backup to the human resources department in any organization.
For more information on outsourcing compliance monitoring contact SkyPrep Today!
---