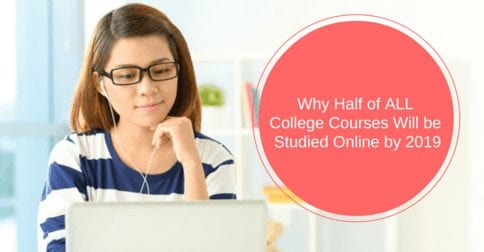 Why Half of ALL College Courses Will Be Studied Online by 2019
The early 90s saw experts predicting that the world wide web would change the way students learn in the classroom. But are today's online teaching tools making the classroom obsolete?
It's estimated that roughly half of today's college and university students are taking at least one class online. However, it's also estimated that by 2019, half of ALL college courses will be offered online.
This isn't just because learning online is "easier." It's because the next generation is facing a completely different education system and job market than those of us who sat in a lecture hall for 4 years.
e-Learning and the Millennials Generation
Every new generation is told how crippling their student debt will be. But we're now facing a generation that gets to ask, "Does it have to be?"
"Finish high school, go to college, graduate four or five years later and go to work–only it doesn't work that way very often for Millennials," wrote Tom Vander Ark at gettingsmart.com.
"High rates of young adult unemployment, expensive degrees, and challenging life circumstances are causing many young people to rethink college."
Evolving e-learning tools will let this generation due away with the waste and inefficiency of the past.
e-Learning's Impact on Student Debt
The debt attached to a diploma continues to get heavier. According to Forbes.com:
"At public and nonprofit colleges, average student loan debt increased to $28,400 in 2013, from $27,850 in 2012, with the state averages ranging from as low as $18,650 to as high as $32,800."
The cost of tuition and books drive the student debt, but they're not the only factors. The bigger drain is having little to no income, but still facing:
The cost of moving from their hometown to campus
Paying rent, possibly for the first time ever
Rising food/meal plan costs
Transit passes or vehicle costs
Expanded e-Learning opportunities would mean many students could slash these costs by eliminating their need to physically be in a classroom.
Adding e-Learning Tools to Your Curriculum
The first step for any school to incorporate these tools is to choose the right one. You need to be fully confident that these tools will legitimately fit your offerings and help your students.
One online training tool you may want to try is produced by SkyPrep. One of the best advantages to this software is that you can "try before you buy." SkyPrep offers a FREE 30 day trial, as well as free one-on-one demos to all new users. If you think E-learning would make a great asset to your company, then click here to request a free demo of SkyPrep.
---