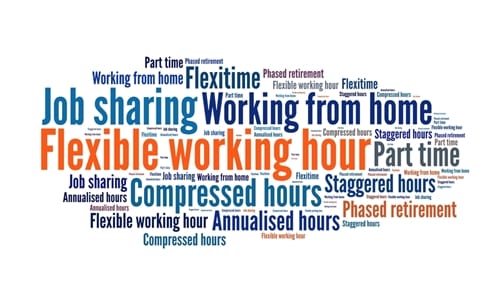 New Study Reveals the State of Work Flexibility
If there's one thing that nearly all employees value, it's flexibility. So it makes sense that companies looking to remain competitive have increasingly been considering telework, flexwork and other innovative methods that give staff members the freedom and control they have come to expect. Technology has enabled people to work whenever and from wherever they want – and finally, more firms are letting their workers take advantage of this. Though a great number of enterprises have ramped up their efforts in this regard, a new survey by the Families and Work Institute and the Society for Human Resource Management revealed a discrepancy in the definition of this concept. So where is the disconnect?
Changing attitudes about flexibility
According to HR Morning, the 2014 National Study of Employers study, which surveyed human resources directors found that employers are less accommodating in some ways. For example, job-sharing or working for part of the year decreased from 29 percent in 2008 to 18 percent in 2014, and breaks for family and other personal responsibilities went down to 52 percent from 64 percent in the same time span. Considering that workers often cite time off for personal needs and flex time as important benefits, it's surprising that many enterprises are tightening their policies in these areas.
Fortunately, many businesses have made strides in other respects. Of the employers that had 50 or more staff members, a whopping 92 percent reported they frequently allow some workers to have control over when they take their breaks – an increase of 7 percent from 2008. Another 82 percent said they let workers have paid time off for important family or personal needs, and 81 percent admitted they enable them to vary their work hours within a certain range. Control over overtime hours increased from 27 percent to 45 percent and even time off during the workday when something arises spiked from 73 percent to 82 percent.
Still, while only half of employees were allowed to occasionally work remotely in 2008, that percentage jumped to 67 percent this year. Ellen Galinsky, president and co-founder of the Families and Work Institute, told Forbes that the main reason firms are finally embracing telework is real estate costs. By letting people work from home, businesses can save a substantial amount of money because they don't require as much office space. She also noted that small employers seem to be more open to flexible working options because they tend to make relationships with their employees a top priority. That means employers and staff members are closer on a personal level, and so it's a lot more difficult to turn down a special request or demand.
The future of flex work
There is still much room for improvement, however, in terms of offering telework. In an interview with Workforce magazine, Flex Strategy Group/Work Life Fit Inc. CEO Cali Williams Yost stressed that telework shouldn't be considered a perk, but a "core operating strategy." For these initiatives to work, though, she emphasized that remote employees must be trained properly.
"You have to think about how you have to put the boundaries up around all the parts of your life that help you be your best on and off the job, and then you have to also understand how to communicate, coordinate and collaborate with your team, manager, customers, family and friends," Yost explained to the magazine.
According to Yost, technology is not the only consideration for making telework successful. She was adamant that staff members must develop the right communication, coordination and collaboration skills so that their performance and productivity do not suffer. Companies that want to offer more remote working options to their employees can leverage online training software and create online training courses about effective strategies when working from home.
---
One response to "New Study Reveals the State of Work Flexibility"