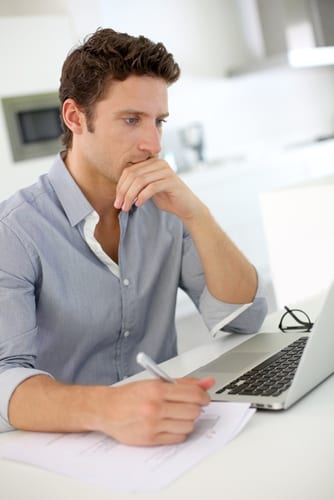 Steps for Successfully Training Remote Workers
The concept of a traditional office is starting to morph as more companies – and employees – embrace telework. In fact, according to CNNMoney, nearly 13.4 million people now work from home, and forecasts have predicted that this number will continue to rise. Getting your staff up to speed on the knowledge and skills they'll need to fulfill their role requires different tactics when they're working remotely. To ensure that they're set up for success, you'll need to immerse them in an informative, engaging and motivating training process.
By incorporating certain strategies into your onboarding process, you can optimize your remote staff's performance from the get-go.
Step 1: Hire thoughtfully
Hiring teleworkers requires carefully examining their strengths in a different way. In addition to possessing the skills relevant to their role, those working from home should boast superior collaborative and communicative abilities. Inc. magazine explained that these individuals are typically self-starters who proactively set and pursue goals. Remote employees are also usually task-oriented, regularly drawing up a list of specific assignments and projects. Most importantly, you should aim to hire remote staff who are incredibly organized, as this will allow them to accomplish tasks efficiently from wherever they are located.
Step 2: Kick off properly
The first days of training set the tone for how quickly an employee is able to grasp the ropes. Beth N. Carvin, CEO of global technology firm Nobscot Corporation, told Recruiter.com that it can be helpful to have remote workers come in and spend a few days or a week at the headquarters, or have management travel to the employee's location. In-person orientation and team building activities will set expectations for communication, offer remote teammates a sense of bonding and belonging and additionally, will give them a glimpse into the company environment and culture. After establishing this strong foundation of trust, you can better transition into remote training.
Step 3: Equip with tools
Regardless of what kind of remote training you're engaging in, it can be immensely valuable to leverage the power of elearning software. One of the advantages of using these solutions is that they don't require any installation on the employees' part – all they need is an Internet connection. After uploading training materials, you can develop tests to assess how your new hires are absorbing critical knowledge. Then you can keep track of their progress by analyzing reports within the learning management system . Utilizing these online training systems will allow your remote employees to learn at their own pace, while also giving you insight into any issues they may need clarification on. That means you can go back and continually improve the onboarding experience.
---