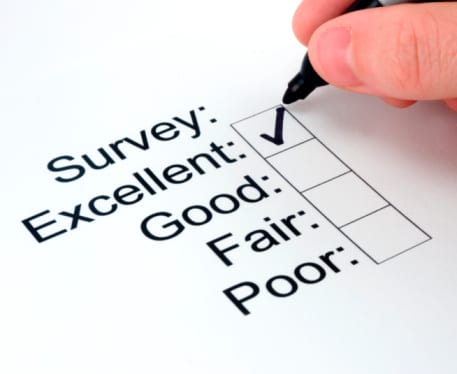 5 Strategies To Consider When Surveying Employees
For businesses that have more than just a handful of employees, staff surveys can be an invaluable tool. Being able to gauge where your company's strengths and deficiencies lie from your staff's perspective is the first step in accurately remedying any weaknesses. The morale of your employees can impact company productivity, efficiency and loyalty, so you want to be sure that survey answers reflect the true level of employee satisfaction.
Below are a few strategies that can help ensure genuine employee feedback.
1 – Assure them that their responses will remain anonymous.
If the responses to survey questions can be traced back to an employee, your staff will likely be hesitant to disclose their true feelings when answering. An employee's fear of being condemned or punished over criticism may lead to survey results that paint a prettier picture than reality. You want real feedback, so remove the paranoia and assure them their answers will remain anonymous.
2 – Make it clear that their responses are important, and will lead to a better work environment for themselves.
Ensure your employees understand that getting legitimate feedback is in their own best interest, since it is designed to help remedy issues that they have. Reiterate in person or in the survey that you want to improve THEIR experience.  If you make it clear that their voice will be heard, it is more likely that they take the time to give you real, valuable information.
3 – Keep questions as short and as interesting as you can. 
People generally don't enjoy responding to questions that require long and tedious answers. Take the time to think about your questions, and structure them in a way that makes responding to them easy. When you make a survey question, try reading it afterwards as though you are a survey-respondent. If you find the question a drag to answer, chances are so will your employees.
4 – Variation in question format is important.
Studies have shown that survey and test takers are more engaged when they are responding to a wider variety of question types. You want to avoid making a survey that is in entirely in multiple choice, or entirely in short answer format. To get the best responses, keep employees interested. Mix it up using True/False, Fill-In-The-Blanks as well as other formats to create a survey that employees don't find monotonous.
5 – Provide rewards for completing a survey.
Giving your staff motivation to complete a survey can go a long way, so entice them by offering small rewards or perks to those who fill them out. Try a company raffle for prizes, where each person who fills out a survey is entered into the raffle. This is a fun and effective way to build camaraderie, and receive company feedback.
---