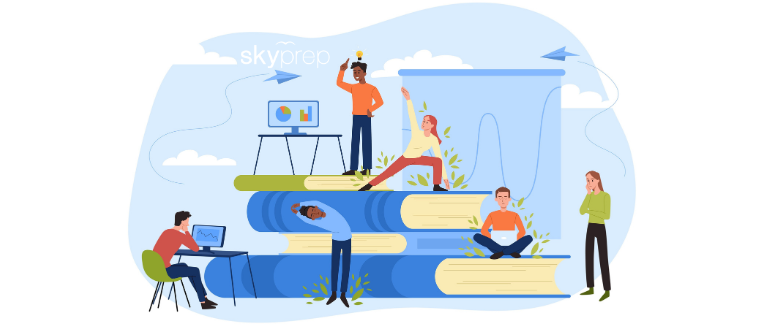 How to Select the Right Content Authoring Tool: 7 Factors to Consider
An eLearning content authoring tool is a software application that allows users to create and publish interactive and engaging online learning content. These tools typically provide a user-friendly interface and a range of features that make it easy to develop multimedia-rich courses without the need for coding or programming skills. eLearning authoring tools often include features such as templates, drag-and-drop functionality, multimedia integration, assessment tools, and content publishing options. They are commonly used by instructional designers and subject matter experts to develop eLearning materials for online courses, training modules, and educational content
Important Factors to Consider when choosing an Content Authoring Tool
There are several key factors that can impact the effectiveness of your eLearning course. One important aspect is ensuring that the online training content is accessible and understandable to your employees. Another factor to consider is the technology you use, which should be both user-friendly and appropriate for your learners' needs. The eLearning content authoring tool you choose also plays a significant role in creating engaging and effective online training modules. Therefore, it is essential to consider the following seven factors before investing in new eLearning authoring tools- to ensure you select the best option for your organization.
1. Defining What "User-Friendly" Means to You
An essential aspect of creating an effective online training course is the choice of the eLearning content authoring tool. It must possess the necessary functionality to design user-friendly interfaces and intuitive navigation. This includes the capability to cater to various technological levels, such as touchscreens, which provide convenience for employees during training. Participants should be able to easily pinch and zoom, enabling them to enlarge fonts or explore intricate visuals. Therefore, the eLearning content authoring tool should seamlessly integrate these features into the online training course. Additionally, it must provide the flexibility required by the development team to create engaging and meaningful content. Striking a balance between user-friendliness and functionality is crucial, as an overly simplistic tool may limit the team's ability to produce immersive simulations and restrict their creative freedom.
2. Determining Budget Allocation for New eLearning Authoring Tools
Often overlooked, budgeting for online training consists of two main components. Firstly, you establish a budgetary limit that sets the boundaries for your eLearning investment. Secondly, you search for eLearning authoring tools or courses that fit within that budget. For example, if your budget is limited, you will need to explore eLearning authoring tools that fall within this price range. In doing so, you may find two options that meet your criteria but have different features. One may offer translators but lack text-to-speech readers, while the other may have closed captions but no branding options. To make the best decision, consider your employee training participants' needs and prioritize the features that are most crucial to their experience. Additionally, be open to the possibility of investing in multiple eLearning content authoring tools to cater to different eLearning development needs. However, ensure that these tools are compatible with each other, ensuring seamless integration.
3. Ensuring Compatibility with Our Current Software Suite for the New eLearning Authoring Tool
If your company is already using eLearning technology, it's important that your new eLearning authoring tool is able to integrate with your existing software. Whether it's payroll systems, accounting software, digital asset managers, or an LMS, the authoring tool should be able to seamlessly work alongside them or replace them altogether. To ensure a smooth transition, reach out to the vendors of your current software and inquire if they offer or can suggest eLearning authoring tools that integrate well with their software. However, if you are unsatisfied with your existing software, now is the perfect opportunity to revamp your entire system and find new eLearning and management tools that align and complement each other.
4. Evaluating Alignment with Our Team's Skill Set for the New eLearning Authoring Tool
To ensure that your eLearning authoring tool is suitable for your eLearning content developers and coders, it is important to consider their input regarding the technical aspects of the tool. Determine how much coding is required in your prospective tool and whether it utilizes programming languages that they are familiar with. Additionally, inquire about the process of uploading online training content. Is it a simple type, drag, and drop interface, or do they need some basic back-end skills? By gathering their feedback, you can ensure that the content creation system is compatible with their expertise and preferences.
5. Assessing Support for Multimedia and Interactive Online Training Resources in the New eLearning Authoring Tool
When it comes to developing eLearning content, it is important to create courses that are not only engaging but also require active participation from learners. To cater to the diverse learning styles and preferences of employees, offering online training content in multiple media formats such as text, audio, video, and graphic novellas is beneficial. Make sure that the eLearning authoring tool you use is capable of building all these formats and contains appropriate buttons, icons, and interactive features to enhance the online training experience.
6. Considering Mobile Compatibility for the New eLearning Authoring Tool
Mobile compatibility is an essential feature that should not be overlooked when selecting an eLearning authoring tool. While it may be easy to assume that all tools have this capability, it is crucial to ensure that the tool you choose has the ability to build apps or optimize online training content for mobile devices. Mobile optimization involves adapting online training content to be accessible and responsive on mobile devices. Once you have made this decision, you can then verify that your chosen eLearning authoring tool aligns with your preference.
7. Identifying the Level of Support Needed for the New eLearning Authoring Tool
When evaluating a new eLearning authoring tool, it is essential to gauge the level of support that your team will need. Different vendors offer varying degrees of support, ranging from basic assistance to comprehensive support options like round-the-clock phone support with a dedicated expert. It is crucial to determine the amount of support your team requires and is willing to invest in. If the eLearning authoring tool is user-friendly and your team already has proficiency with similar tools, you may be able to make do with basic support services.
Choosing the right eLearning authoring tool is crucial for the success of your eLearning program. Be sure to consider the above factors in your decision-making process. These factors will help you find an authoring tool that aligns with your needs and will ensure an effective online training experience.
---