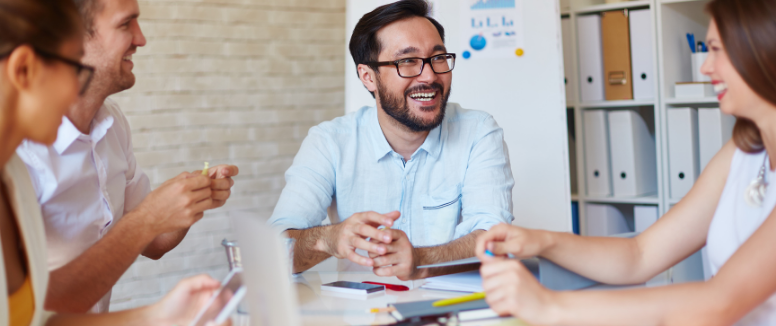 5 Important Elements of an Employee Training Program
There should never be a 'one-size-fits all' approach when it comes to creating online training programs. Learning and development (L&D) professionals should always be mindful of the fundamental elements training courses should possess in order to be engaging and effective for their learners. Of course every L&D professional will have their own unique style of course creation that will add value and address their learners needs. In this article, we will look at some important elements that can help you create a well-structured online training course, as well as reinforce your existing eLearning content.
1. Relevant And Consistent Content
One of the most crucial elements of an online training course is relevant content. Employees that are working remotely spend many hours behind a computer screen on a daily basis, they will lose interest if the content they are consuming is not relevant to their role. So with this in mind, ensure your training courses are not too long, but rather clear and engaging. 
Some tips to consider when structuring your training content:
Verify that your training content is relevant and in accordance with your learning objectives.
Try to have one learning objective per module. It will eliminate your learners feeling overwhelmed, and will help increase knowledge retention.
When developing training content, create it with the learner's perspective in mind.
Your training material should maintain an engaging and personal tone throughout.
Provide examples for topics/terms that may be complicated, to help learners get a more clear understanding.
2. Seamless Navigation
An exceptional employee training course should be very effortless to navigate. Navigation buttons such as arrows, links, menus, previous and next should be conveniently placed. It is imperative that these navigation elements are visible and straight forward to use.  
Here are some helpful questions to ask yourself when analyzing the navigation element of your course:
Is your training material placed in logical order?
In order to avoid disrupting my learner, do the backlinks in my training modules open in a new tab? 
Are the navigation buttons in my training platform visible and well-placed?
3. Gamification And Interactive Learning
Games, quizzes, Q & A's, videos, and discussion forums are some ways learners can interactively learn. This eLearning element will help capture the learners attention and help them stay engaged. Additionally, when a course requires this input, it is very unlikely that learners will become distracted. Training content that is interactive will boost levels of engagement and ensure employees are on the ball. 
Some tips to implement interactive learning in your eLearning course are:
Incorporate gamification elements to your course.
Add an end assessment or evaluation once a module has been completed.
Interact live with your learners within a virtual classroom environment.
4. Visuals And Design
First impressions matter when it comes to your employee training programs. Your enrollees will first judge your online course based on the looks and layout, before accessing the actual training material. Your content can be amazing and insightful, but if the design is bad, there is a higher chance learners will become uninterested. A top-tier design layout involves using crisp visuals, colours, and images in a unified and aesthetically pleasing way. Upon enrolling, a learner is less likely to drop out of a lesson if their impression of the design is positive.  
Consider these tips on how to improve your course design:
Always utilize high-quality graphics, and keep the style uniform throughout.
Keep the font and colours consistent.
Avoid overloading your pages with content. Break it up into easy to read sections.
Remove unnecessary graphics that make your layout look complicated and disordered.
5. Track Employees' Progress
The ability to track your employees progress throughout a course should never go underrated. It is one of the most significant elements of your online training program. If you can not track your learner's behaviours and progress, your eLearning course is pretty much obsolete. A learning management system (LMS) is a tool that can help you track progress by collecting this data for you. This data collected simplifies the tracking process for you. It can then be used to adjust or improve your training material to create a positive learning experience. 
SkyPrep is an industry leader that helps organizations revolutionize their employee training programs. To learn more, request a call and a product specialist will reach out to you shortly.
---