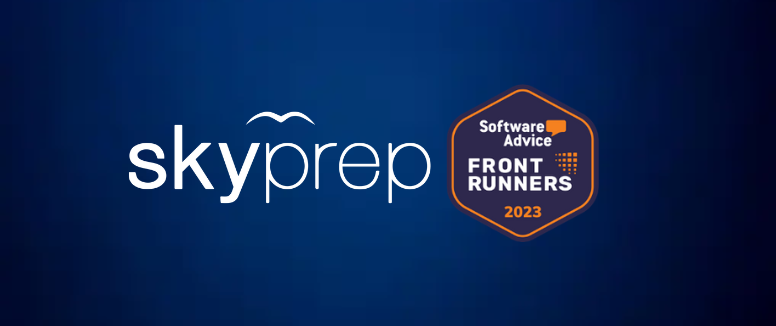 SkyPrep Recognized as a Frontrunner in Employee Training by Software Advice
We are thrilled to announce that we have been recognized as a top-rated product by Software Advice in their 2023 FrontRunners Report for Top Employee Training Software category.
Frontrunners report evaluates verified end-user reviews, positioning the top-scoring products based on their usability and customer satisfaction ratings for small businesses. (Learn more about the methodology here)
We always strive to achieve higher customer satisfaction, which is why SkyPrep has earned an incredible overall rating of 4.7 (out of 5). Big thanks to all our users who've made this possible!
Check out what our happy users have to say about us:
"Before Skyprep, our training material was spread everywhere: On Google Drive, on YouTube, in binders, in random file cabinets, you name the place, we had a piece of training material there. Now, now, now, we have it ALL under one roof with easy-to-navigate Learning Paths." – David
"I find this to be very user friendly and love the fact that my trainees can follow along on their own PC rather than me having to share my screen and then follow along that way" – Marla
"We migrated from another vendor to Skyprep because it provided additional functionality out of the box that other LMS platforms did not provide. This added value was realized quickly after deployment. It was worth the migration." – Douglas
About SkyPrep
SkyPrep LMS is an award-winning, intuitive industry leader. It enables you to deliver effective internal training, onboarding, compliance training, and more to your employees, partners, and customers. Utilized by over 500 organizations in various industries globally, it is a true testament to our user-friendly interface, simple yet innovative features, affordable pricing, and exceptional customer support. We are committed to providing the best online training platform solutions in the market, and take pride in helping empower your employees with the knowledge and skills they need to continue making your organization a success.
About Software Advice
Software Advice is the leading online service for businesses of all sizes navigating the software selection process, providing free, personalized software recommendations that meet their business needs. Software Advice features objective research by industry experts and reviews from validated users, saving buyers time and resources. Software Advice is a Gartner company. For more information, visit https://www.softwareadvice.com/
Want to review SkyPrep? Click here
---