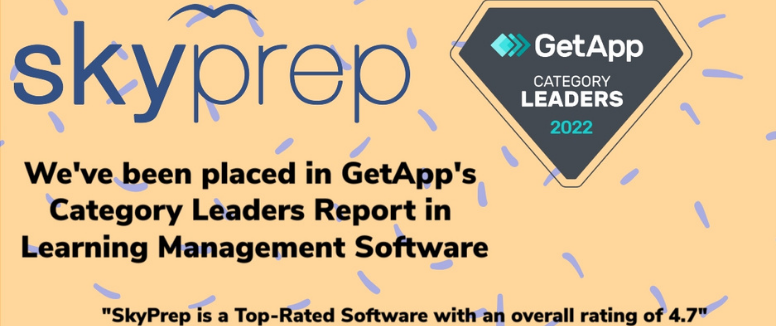 SkyPrep Named Category Leaders for Learning Management Software
SkyPrep has been placed on GetApp's newly released Category Leaders Report for Learning Management Software category by GetApp, a free online service that helps organizations find the right software. Category Leaders are designed to help small businesses evaluate which software products may be right for them.
Not only this, SkyPrep is a winner of not 1 but 2 more GetApp Category Leaders reports in the last year! Check out our incredible wins:
Category Leaders is published on GetApp, the recommendation engine for SMBs needing to make the right software choice. Category Leaders rankings highlight top-ranked North American software products based on ratings from end-users in five key areas: ease of use, value for money, functionality, customer support, and likelihood to recommend. The research methodology is available here.
With an overall rating of 4.8 out of 5, SkyPrep has been a top-rated product on GetApp. We would like to graciously thank all our users. Without their continuous love, support and trust- this would have not been possible!
Check out our ratings below:
Not only this we've been listed on other Gartner Digital Markets brands too, check out the categories of the same:
2022 FrontRunner for Learning Management
Check out what our users have to say about us:
"Overall SkyPrep is an easy tool to work with and navigate. It provides an ease of conducting training alongside a great team of customer support for any issue resolution or system enhancements."
–Veronica T.
[Source: GetApp]
About Gartner Digital Markets:
Gartner Digital Markets is a Gartner business unit composed of Capterra, GetApp, and Software Advice. It is the world's premier source for software vendors to connect with in-market buyers, through research, reviews, and lead generation.
About SkyPrep:
SkyPrep LMS is an award-winning, intuitive industry leader. It enables you to deliver effective internal training, onboarding, compliance training, and more to your employees, partners, and customers. Utilized by over 500 organizations in various industries globally, it is a true testament to our user-friendly interface, simple yet innovative features, affordable pricing, and exceptional customer support. We are committed to providing the best online training platform solutions in the market, and take pride in helping empower your employees with the knowledge and skills they need to continue making your organization a success.
Want to review SkyPrep on GetApp? Click here.
---