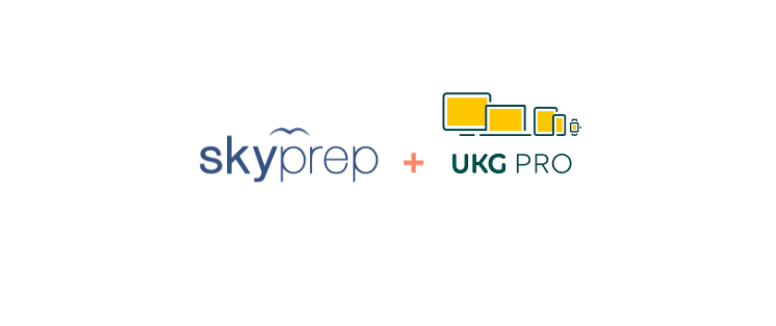 SkyPrep + UKG Pro: Seamlessly Integrate Your HR System with Your LMS
We are excited to announce the integration of SkyPrep + UKG Pro. UKG Pro (Ultipro) is a cloud-based HRIS designed to help businesses manage their workforce. This integration offers a range of features including payroll processing, time and attendance tracking, applicant tracking, and employee scheduling. UKG Pro is designed with an emphasis on HR processes, whereas UKG Kronos is designed with an emphasis on workforce management.
UKG Pro (Ultipro) offers a range of benefits for businesses of all sizes. These include:
• Streamlined HR processes: UKG Pro simplifies and automates HR processes, such as onboarding, payroll, and compliance management, which saves time and money.
• Seamless data integration: UKG Pro integrates with other systems, such as accounting and time-tracking software, to ensure data accuracy and reduce manual data entry.
• Comprehensive reporting: UKG Pro provides comprehensive reports to help organizations make informed decisions and monitor performance.
• Scalability: UKG Pro can be tailored to the needs of any organization, and its features can be scaled up or down as needed.
• Cost efficiency: UKG Pro is designed to be cost effective and helps organizations reduce costs associated with HR processes.
Bring Your LMS and HRIS Together
Now that you know some of the key benefits you can get out of the SkyPrep + UKG Pro (Ultipro) integration, we'll go into more detail on what you can do with the integration:
• Automate payroll processing
• Manage employee benefits
• Track and monitor employee attendance
• Monitor labor costs
• Track employee performance
• Schedule shifts and manage employee schedules
• Recruit, onboard, and manage applicants
• Create custom reports
• Generate compliance documents
• Create and manage training programs
• Manage employee data and documents
The SkyPrep + UKG Pro integration enables businesses to automate and streamline their employee training and development processes. With this integration, organizations can quickly onboard and train new employees, manage employee learning records, and track employee progress. Additionally, they can provide personalized learning experiences to employees and measure their performance with real-time analytics. This integration helps organizations save time and money by automating learning processes and ensuring that employees are meeting their learning goals.
If you would like to learn more about the SkyPrep + UKG Pro integration and how you can streamline your employee training processes with your LMS, please contact us and we will be more than happy to answer your questions.
Contact Us To Learn More About The SkyPrep + UKG Pro Integration
---